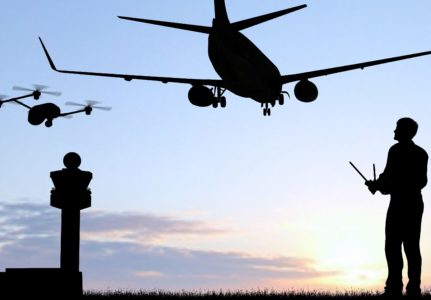 Drone incidents are increasing, mostly targeting airports
As drones proliferate and become easy to reach, they also become a threat to the safety and security of billions of people. With $50 you can buy an easy to use drone. With $500 you can acquire something better, with larger range. $5,000 will provide you with a highly sophisticated flying carrier you can control from a distance.
From pranksters to terrorists, drone is becoming the tool of choice that interferes with public order. As part of an analysis we are doing in to estimate market size for the Counter-Drone Market we collected hundreds of events with a drone as the source of incident.
When you look at the data, the known events show that Airports are the number one target. Interfering with the Airspace has become a real challenge for airports all over the world. A small drone entering the Airports airspace can cause delays, and even accidents. Not all are terrorist attacks, and most are enthusiasts that are not following the rules, but the results are usually the same. Loss of millions of dollars each time, and a real threat to airplanes.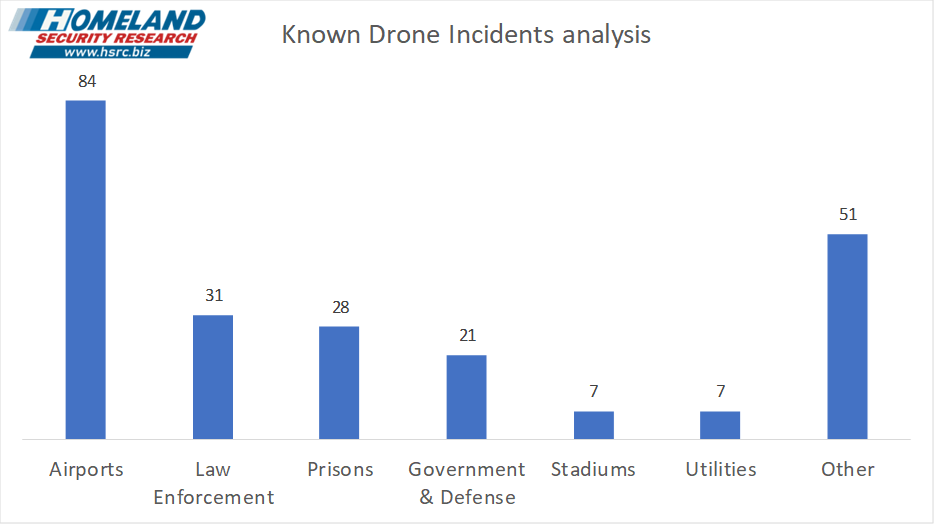 This database is only about known events and infiltrations. Naturally, Airports monitor the airspace very closely, so most incidents are registered and made public. Other facilities such as prisons, Critical Infrastructure, and government related facilities probably do not know about all events, and when they do find out, they seldom publish it. All of these sectors are highly interested in counter drone solutions.
Stadiums is another sector that is really interested in Counter drone. Safety is an important issue, but media rights are the big financial threat. Flying a drone with a high-resolution camera over a stadium that can stream video can mean a great loss, and stadiums want to prevent that.
If you wish to learn more about Counter Drones and Aviation Security, you can learn about it in one of these following reports:
Contact our team of analysts for a customized research on your next market on this number +1-(202)-765-2589
About HSRC
Homeland Security Research Corp. (HSRC) is an international market and technology research firm specializing in the Homeland Security (HLS) & Public Safety (PS) Industry. HSRC provides premium market reports on present and emerging technologies and industry expertise, enabling global clients to gain time-critical insight into business opportunities.
HSRC also provides customized business reports to major corporations and governments, based on diverse information sources, a vast network of connections, and expertise in international market analysis. As the only firm focusing on Homeland Security we accumulated extensive knowledge on global markets, technologies, market trends, leading players and regulations.
HSRC's clients include U.S. Congress, DHS, U.S. Army, U.S. Navy, NATO, DOD, DOT, GAO, and EU, among others; as well as HLS & PS government agencies in Japan, Korea, Taiwan, Israel, Canada, UK, Germany, Australia, Sweden, Finland, Singapore. With over 750 private sector clients (72% returning), including major defense and security contractors, and Fortune 500 companies. HSRC earned the reputation as the industry's Gold Standard for HLS & PS market reports.
For more information, contact Naomi Sapir:
naomi@homelandsecurityresearch.com