Description
Video Analytics Market to Reach $43B by 2025
The Video Analytics Market in Law Enforcement, Defense & Public Safety– 2020-2025 report, consisting of 3 volumes, presents a thorough analysis of 5 vertical, 5 regional, 5 revenue sources and 43 national markets, detailing 234 submarkets from 2018-2025. According to the report, the market is expected to reach $43 billion in 2025.
The market growth of Video Analytics in Law Enforcement, Defense & Public Safety is driven by the following factors:
The fast proliferation of video surveillance
New and maturing technologies: video analytics algorithms, processors, applications and products underwent a decade of technological evolution to intelligent video processing, based on advancements in image processing, enabling automatic and semi-automatic detection and identification of signatures
Safe City projects
Artificial Intelligence
Proliferation of Standoff Face Recognition
Big Data Analysis
Smart Video Surveillance
Price reduction of Video Analytics systems,driven by the falling prices of image processing DSPs and communication systems
Improved cost-performance of new edge-based video analytics DSP technologies(e.g., Intel, Bosch & Texas Instruments VA DSPs)
The rapidly growing "Internet of Things" applications drive the "Video Imaging of Everything" proliferation
Ever improving HD video cameras cost-performance
High cost of human operators and high rate of overlooked events
This 1205-page market report is the most comprehensive review of the global market available today. The objective of this report is to provide today's strategic decision-makers with an expert 360-degree, time-sensitive, detailed view of this interconnected market.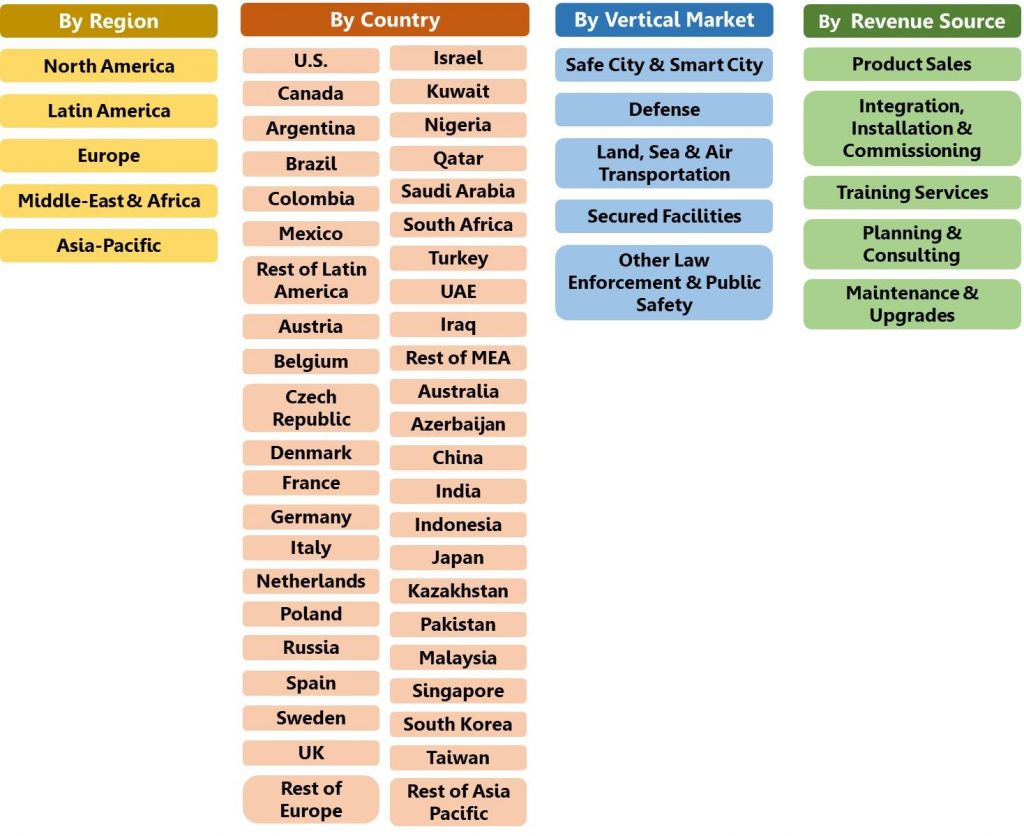 Global Video Analytics Market in Law Enforcement, Defense & Public Safety Segmentation Vectors of 234 Submarkets

Why Buy this Video Analytics in Law Enforcement, Defense & Public Safety Market Report?
A. Questions answered in this report include:
What drives the customers to purchase Video Analytics in Law Enforcement, Defense & Public Safety solutions and services?
What is the market size and what are the trends of 234 submarkets during 2018-2025?
What are the submarkets that provide attractive business opportunities?
Who are the decision-makers?
What are the customers looking for?
What are the Video Analytics technologies and services trends?
What are the 5 vertical markets' SWOTs (Strengths, Weaknesses, Opportunities and Threats)?
What are the challenges to market penetration and growth?
B. The Global Video Analytics in Law Enforcement, Defense & Public Safety Market size data is analyzed via 4 independent key perspectives.
With a highly fragmented market we address the "money trail" – each dollar spent in the global Video Analytics market is analyzed and crosschecked via 4 orthogonal viewpoints:
Safe City & Smart City
Defense
Land, Sea & Air Transportation
Secured Facilities
Other Law Enforcement & Public Safety Markets
U.S.
Canada
Mexico
Colombia
Brazil
Argentina
Rest of LATAM
UK
France
Netherlands
Belgium
Sweden
Denmark
Germany
Austria
Italy
Spain
Poland
Czech Republic
Russia
Rest of Europe
Turkey

Israel
Saudi Arabia
UAE
Qatar
Kuwait
Nigeria
South Africa
Rest of MEA
India
China
South Korea
Japan
Australia
Azerbaijan
Kazakhstan
Pakistan
Taiwan
Singapore
Malaysia
Indonesia
Rest of Asia Pacific
North America
Latin America
Europe
Middle East & Africa
Asia Pacific
By 5 Revenue Source Markets:
Product Sales
Integration, Installation & Commissioning
Training & Services
Planning & Consulting
Maintenance & Upgrades
C. The report provides detailed market analysis frameworks for each of the market sectors, including:
Market drivers & inhibitors
Business opportunities
SWOT analysis
Competitive analysis
Business environment
2018-2025 market
D. The report includes the following 10 appendices:
Appendix A: National Video Analytics Market in Law Enforcement, Defense & Public Safety – Market Background for 40 Countries
Appendix B: Present and Pipeline Intelligent Video Surveillance Technologies
Appendix C :Video Analytics (VA) & Video Content Analytics (VCA) Technologies
Appendix D: Open Network Video Interface Forum (ONVIF) Standard
Appendix E: Markov IVS Decision Algorithms
Appendix F: CCTV Based People Screening
Appendix G: VCA & Video Analytics Systems and Devices Industry
Appendix H: VCA & Video Analytics Industry: Business Models & Strategies
Appendix I: Video Analytics Product Standards
Appendix J: Abbreviations
E. The report addresses over 310 industry standards (including links)
G. The report provides updated extensive data on 114 leading video analytics related vendors  (including companies' profile, revenues, products, and contact info.):
3M
3i-MIND
3VR
3xLOGIC
AAi Corporation
AAM Systems
ACTi Corporation
ADT Security Services
Asaptive Imaging Technologies
Agent Video Intelligence
Aimetis
ALPHAOPEN
American Dynamics
Ampex Data Systems
Aralia Systems
Avcon Information Technology
Avigilon Corporation
Aware
Axis
AxxonSoft
BAE Systems
Basler
Bikal
Boeing
Bosch Security Systems
Briefcam
Camero
Cernium
Churchill Navigation
CIEFFE
Cisco Systems
Citilog
ClickIt
Cognimatics
Digital Results Group
DVTel
Emza Visual Sense
Eptascape

DVTel

Exacq
GE Security
Genetec
Geovision
HASAM
Huawei
Honeywell
IMINT Image Intelligence AB
Indigo Vision
Intellivid
Intergraph Corporation
IntuVision Inc.
ioimage
IPconfigure
IPS Intelligent Video Analytics
Ipsotek
IQin Vision
ISS

ITT EchoStorm
L-3 Communications
Lockheed Martin
LuxRiot
MACROSCOP
March Networks
Mate Intelligent Video Ltd.
Matrix Vision
MDS
Milestone Systems A/S
Mirasys
Mobotix
MTS
National Instruments
NetPosa Technologies
Nice Systems
Northrop Grumman
Nuuo
ObjectVideo
On-Net Surveillance Systems
PCI-Suntek Technology
Pelco
Pivot3
Pixim
Proximex
PV Labs
Raytheon
Salient Stills
Samsung Techwin
Samoff Corporation
SeeTec
Senstar Inc.
Sentient
Siemens
SightLogix
Smartvue
Sony
Synectics
Synesis
Texas Instruments
Thales Group
V.A.S GmbH
VDG Security BV
Verint
Viasys Intelligent Video Analytics
Vicon
Videalert Ltd.
VideoBank
VideoIO
VideoMining
VideoNext
Vidient
Vigilant Systems
Vi-Systems
WeCu Technologies Ltd
Westec
Zhejiang Dauhua Technology
F. The report addresses the following current and pipeline video surveillance and analytics technologies:
 License Plate Recognition (LPR), Cloud Video Analytics, Kalman Filters Application to Track Moving Items, Real Time Automatic Alerts Algorithms Online Video Analytics, Object Sorting and ID, Behavioral Analysis, Video Analytic Applications, Video Analytics Architecture Image Segmentation Algorithms Item Tracking, Intelligent CCTV Surveillance Algorithms, Item Identification and Recognition, IVS Based Face Recognition, Sorting Actions and Behaviors, Crowd Surveillance, Multi-Camera Intelligent CCTV Surveillance Systems, Remote Threat Identification, Distributed Sensors Remote Systems, Remote Biometric Identification, Watch Lists fused IVS, Fused VA and Biometrics, Fused Multi-modal IVS Biometric Remote People Screening, Intelligent Video Surveillance Tracking, IVS & VA based Behavioral Profiling, Tag and Track, Wireless Video Analytics, Video Content Analysis Algorithms, Automated Analysis of Video Surveillance Data, Item Detection, Gaussian Mixture Based Background Subtraction Algorithms, Background Subtraction, Item Detection Based on Single-Image Algorithms, Item Tracking Algorithms, Kalman Filtering Techniques, Region Segmentation, Partially Observable Markov Decision Process, "Splitting" Items Algorithms, Dimension Based Items Classifiers, Shape Based Item Classifiers, Event Detection Methods, Vision-Based Human Action Recognition, Derived Egomotion, Path Reconstruction Algorithms, Video Cameras Gap Mitigation Algorithms, Networked Cameras Tag and Track Algorithms, Fusion Engines, Event Description, IVS Reasoning, IVS Reporting, Smart Cameras, Pulse Video Analytics.