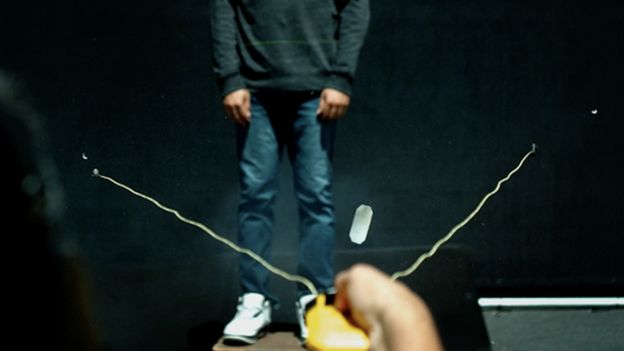 Catching Suspects Batman-Style: The Latest Gadget to be Used by LA Police
The BolaWrap, a hand-held remote restraint device created by Wrap Technologies, fires a chord that can entangle an individual's torso or legs from several feet away. This device has already been adopted by several police forces, and Los Angeles police officers will soon be trained to use this "batman-style" device as an alternative way of snaring a subject.
A total of 200 Los Angeles Police Department (LAPD) officers will be given the devices after training, the force said. "If you deploy a wrap tool, it buys time for officers to deploy a secondary option," Bell Police Chief Carlos Islas said. "It will inevitably restrain someone. It's a tool that's been a long time coming."
According to Wrap Technologies' website, "suspects are restrained with minimal to no pain, while also enabling officers to swarm and investigate the situation."
Officer Islas says the device will only be used in specific circumstances, including cases when individuals are suffering from mental health issues. It is one of many tools used by officers and may not work in every situation, Mr Islas says.
Officers have been facing scrutiny for their use of force on unarmed individuals.  John Raphling, a senior researcher at Human Rights Watch, told the BBC that the deployment of BolaWraps could lead to abuse. "Tools like these create the illusion that police enforcement is going to be less violent. Rather than giving more power to police, we should be rethinking what the role of police is in our country," said Mr Ralphing.
Many argue that such devices normally lead to more police violence, as we have witnessed with tasers and other less lethal weapons.  Adam Smith, member of Black Lives Matter, an activist movement, said it would probably be used mostly in minority communities.
How does the device work?
Fired at 513 feet per second, at the end of the tether there are two small barbs that attach to a person when they make contact.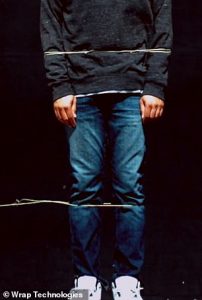 The name derives from the South American Indian throwing-weapon, "Bola", which is primarily used for hunting. The Bola is made of weights on the ends of interconnected cords.  
Several police forces have been training their officers to use the BolaWrap when necessary, such as Fresno in California and Hendersonville in North Carolina.  A Fresno police officer used a BolaWrap gun  back in October to apprehend a man who had stabbed two people with a kitchen knife. Last month, Santa Cruz Sheriff's Office said it had bought 20 BolaWrap devices it hoped would prove to be "another less-lethal force option to their tool-belt".
The media has been comparing the gun-like device to a gadget used by the comic book superhero Batman, who prefers non-lethal means when fighting crime.
BolaWrap is one of several recent examples of police forces in the US testing new technologies for law enforcement purposes.
Recently, one robot-dog named Spot was put to the test for 90 days by the Massachusetts State Police Department's bomb squad to see how it would function in a variety of situations where there are bombs, hazardous materials, and dangerous suspects.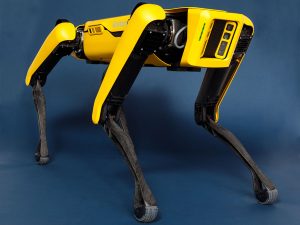 The robot was created by an American engineering and robotics design company named Boston Dynamics. According to the loan agreement between Boston Dynamics and Massachusetts State Police, it explains that the robot will be used "for the purpose of evaluating the robot's capabilities in law enforcement applications, particularly remote inspection of potentially dangerous environments which may contain suspects and ordinances."
According to the market report Law Enforcement & Police Modernization Market – 2020-2025by Homeland Security Research Corp (HSRC),  new and maturing technologies such as Predictive Policing, Crime Analytics, Next Generation 911 (NG911), Artificial Intelligence, Cybersecurity, Big Data, Data Analysis, Gunshot Detectors, IoT and Smart Video Surveillance, will create new market segments and fresh business opportunities. According to the report, the market is forecast to grow to $59.9 billion in 2025.
About Homeland Security Research Corp. (HSRC)
HSRC provides premium off-the-shelf market reports on present and emerging technologies and industry expertise, enabling global clients to gain time-critical insight into business opportunities. All reports include in-depth information and analysis of emerging markets, technologies, and industries broken down by geography, market, vertical, technology, product, and revenue stream. Our reports support Homeland Security & Public Safety communities worldwide in their strategic decision-making process, providing up-to-date market knowledge, analysis, and insights.
HSRC offers customized research services geared towards providing our clients with clear, actionable recommendations designed to empower decision-making and to help exploit emerging opportunities in the market. The customized research services provide a deep analysis of specific markets and eco-systems, target geographies, strategic segments and verticals, competitor analysis and technological benchmarks. The custom research services are provided as an ad hoc assignment or as an ongoing service.
For more information, contact Naomi Sapir:
naomi@homelandsecurityresearch.com