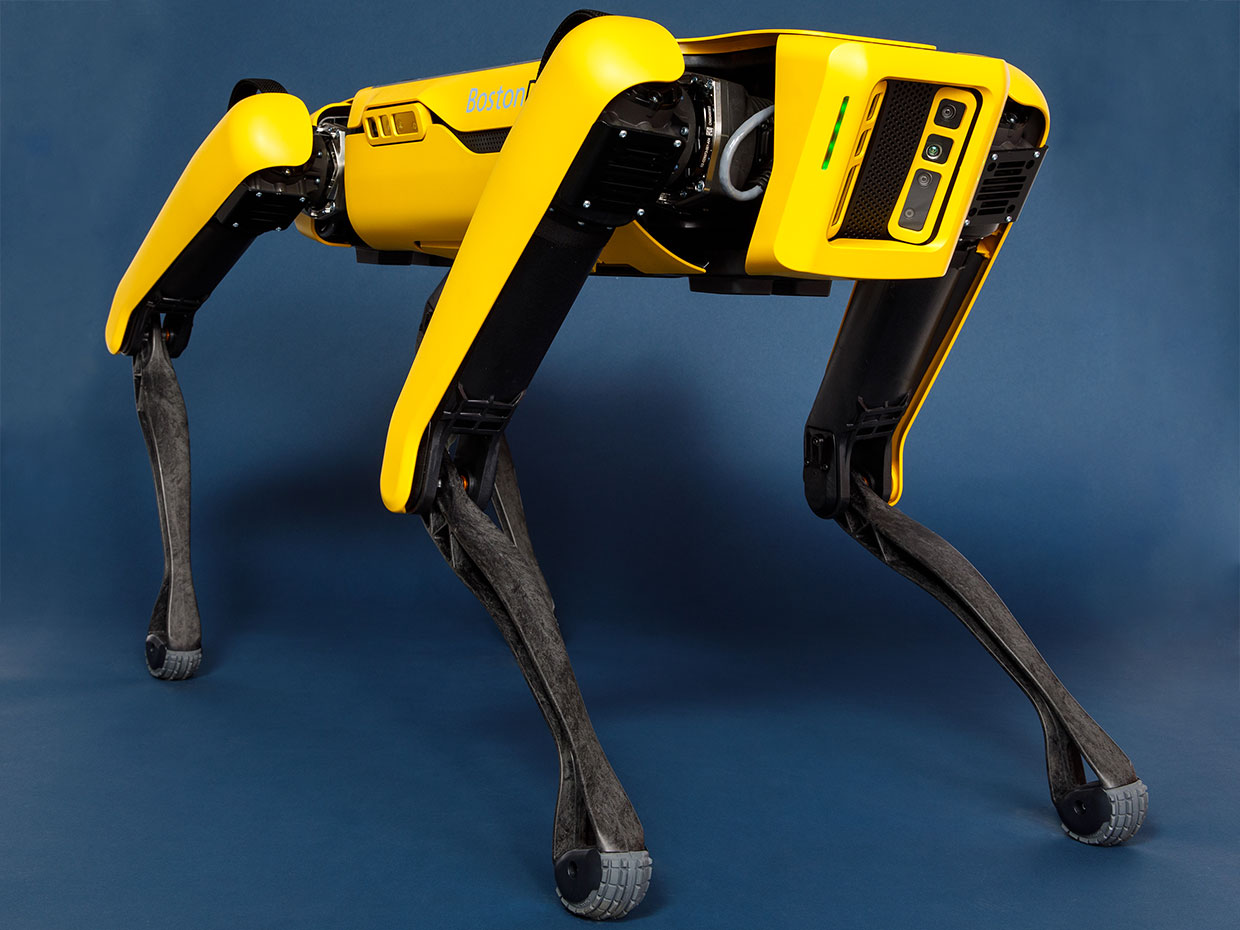 "And Spot was his Name-O!" Massachusetts State Police Becomes First Law Enforcement Agency to use a Robot-Dog named Spot
One robot-dog named Spot was put to the test for 90 days by the Massachusetts State Police Department's bomb squad to see how it would function in a variety of situations where there are bombs, hazardous materials, and dangerous suspects.
The robot was created by an American engineering and robotics design company named Boston Dynamics. According to the loan agreement between Boston Dynamics and Massachusetts State Police, it explains that the robot will be used "for the purpose of evaluating the robot's capabilities in law enforcement applications, particularly remote inspection of potentially dangerous environments which may contain suspects and ordinances."
Indeed, this is no ordinary robot. Spot can navigate challenging terrain, lift construction objects, move through bad weather, and pick itself up after a fall. For the launching of Spot, a video was released demonstrating what the robot can actually do; Spot can run at 1.6 meters per second (about 5.2 feet per second), has 360-degree cameras that give it a full range of vision, is dust- and water-proof, and can operate in temperatures ranging from -20 to 45 degrees Celsius (-4 to 113 Fahrenheit).
Generally speaking, US police departments have made good use of technological advancements in 2019 by using various products and applications.  According to the market report Law Enforcement & Police Modernization Market – 2020-2025 by Homeland Security Research Corp (HSRC),  Unmanned drones and remote robots can help patrol in ways and areas that police officers cannot. They provide real-time information to police dispatchers and to crime analysts so officers can get vital information about crimes in progress and dangerous situations as they unfold. This can help officers better plan responses and save lives.
HSRC's report further explains how new and maturing technologies such as Predictive Policing, Crime Analytics, Next Generation 911 (NG911), Artificial Intelligence, Cybersecurity, Big Data, Data Analysis, Gunshot Detectors, IoT and Smart Video Surveillance, will create new market segments and fresh business opportunities. According to the report, the market is forecast to grow to $59.9 billion in 2025
The potential behind Spot seems enormous, and the idea behind it is that robots will approach potentially dangerous or unidentifiable objects and inspect them so that humans don't have to be endangered. However, there are several issues and debates the surround utilizing such technology since there is a lack of regulations, many argue. That was the case at least until the American Civil Liberties Union of Massachusetts, who what may happen if rules aren't set in place about how Spot the robot can be used.
Back in August, the ACLU filed a public records request for any documents relating to the agency's use of Spot, as well as any records relating to its "plans for, acquisition of, and/or use of robotics" since 2015.
Documents obtained by the ACLU of Massachusetts, which were made public this week, show that the Massachusetts State Police leased a Spot robot dog from Boston Dynamics for 90 days ending on November 5, 2019. Furthermore, the lease agreement obtained by the ACLU notes that the Massachusetts State Police's Bomb Squad would have possession of the robot at all times and would be evaluating its "capabilities in law enforcement actions, particularly remote inspection of potentially dangerous environments."
"We need to have transparency and safeguards to ensure that law keeps pace with technology and technological innovations. This kind of technology shouldn't be deployed in secret," said Carol Rose, executive director of the American Civil Liberties Union of Massachusetts. "We need to have a robust public debate so we can set the protections and the boundaries where we can ensure that technology is used to enhance liberty and not to take it away," she continued.
"A lot of technology often can exacerbate racial disparities, particularly when it's used in some neighborhoods that are highly policed, but not in other neighborhoods for example," Rose said.
She also mentioned when something like this happened at a point in US history. "During the Civil Rights Movement, dogs were turned against civilians in ways that really violated people's basic civil rights and civil liberties for things like the freedom of association, freedom to dissent and to protest and to gather without fearing that you might be tracked by a robotic dog," she said.
According to the Massachusetts State Police Department, Spot was only used by them twice.  
"Massachusetts State Police have used robots to assist in responses to hazardous situations for many years, deploying them to examine suspicious items and to clear high-risk locations where armed suspects may be present," said the director of media communications, Dave Procopio. "As part of our continual emphasis on examining the application of new technologies to our mission, we recently completed a test program of the Boston Dynamics robot known as 'Spot.'"
By having Spot "recruited" to the police force, Boston Dynamics was mostly interested in seeing how the robot dog can help law enforcement in public safety.
"What we're targeting in this space is public safety at large, which includes any first-responder type applications," Michael Perry, Boston Dynamics' vice president of business development, told CNN. "That's primarily getting initial assessments of a hazardous environment, whether it's a fire, hazmat or a potential bomb threat, before you have to send in people."
Perry went on to explain how law enforcement isn't the only area Spot has been working in to see how the robot can help.
"In an oil and gas site, you have to send people into potentially explosive or noxious environments that can make them sick or potentially kill them," Perry said. "If you had a robot attached that is capable of carrying various sensors to detect those problems, you wouldn't have to expose a person to risk in that space."
There are robots that already do this type of remote investigating, but they aren't as advanced. Many of these robots are on wheels or tracks that can't handle all types of terrain. Stairs, curbs and rough ground may present obstacles to the robots doing their jobs.
One thing Boston Dynamics wants to emphasize is that Spot should not be used to physically harm people or intimidate them. Perry said the company has been clear with customers and included this in user guides.
"I think that's a matter for the community to come together and figure out exactly how they want the technology to be deployed," Perry expressed. "It's going to be incumbent on communities, lawmakers and law enforcement to come together and talk about what are some standards for them."
About Homeland Security Research Corp. (HSRC)
HSRC provides premium off-the-shelf market reports on present and emerging technologies and industry expertise, enabling global clients to gain time-critical insight into business opportunities. All reports include in-depth information and analysis of emerging markets, technologies, and industries broken down by geography, market, vertical, technology, product, and revenue stream. Our reports support Homeland Security & Public Safety communities worldwide in their strategic decision-making process, providing up-to-date market knowledge, analysis, and insights.
HSRC offers customized research services geared towards providing our clients with clear, actionable recommendations designed to empower decision-making and to help exploit emerging opportunities in the market. The customized research services provide a deep analysis of specific markets and eco-systems, target geographies, strategic segments and verticals, competitor analysis and technological benchmarks. The custom research services are provided as an ad hoc assignment or as an ongoing service.
For more information, contact Naomi Sapir:
naomi@homelandsecurityresearch.com