Saudi Arabia Border Fence Market – Largest in the World
See also the latest version of this report
With a forecasted $20 billion 2009-2018 cumulative market, the Saudi Arabia 's border fence market is larger than the U.S./Mexican & U.S./Canadian border fence markets combined. It is, in fact, the largest border fence market in the world! Since the Kingdom is presently updating and upgrading its plans and contracts, new market entry opportunities are continuously created for a wide variety of civil engineering, technology and service suppliers.
Saudi borders with Yemen and Iraq – Business Opportunities in Border & Perimeter Protection: Combined Use of Physical Barriers, Electronic Fences, Electronic Surveillance and C3 systems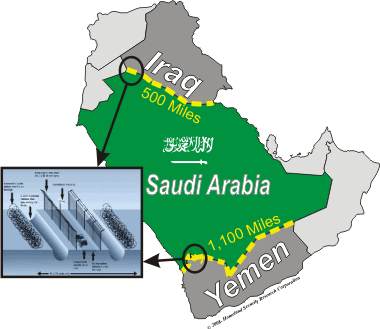 Saudi Arabia's policy for Homeland Security spending is: "No Expense Spared." The Kingdom is acquiring the best available state-of-the-art technologies for both its Iraqi and Yemen border protection projects – stretching for more than 1500 miles in length. This creates an unparalleled demand for a plethora of technologies some of which include computer-controlled surveillance equipment, ports of entry screening systems, MM Wave surveillance equipment, day-night-imaging equipment, and command control communication and intelligence systems which will be linked by a state-of-the-art fiber optic communication systems and much more.
Related Reports:
Saudi Arabia Homeland Security & Public Safety Market – 2017-2022