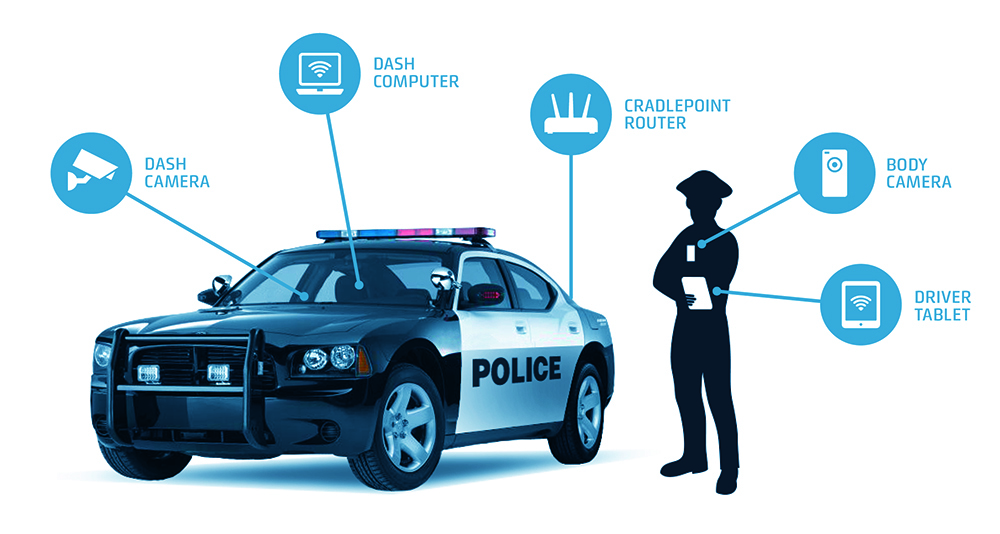 Law Enforcement Technology Trends
Law Enforcement Technology Trends
Policing has rarely been easy, with the hardness of the job having a loose, but positive, correlation with the size and budget of a police force. Law enforcement agencies globally are facing budget constraints pushing them to look for new ways to become more efficient. Emerging technologies, specifically software, are enabling them to do so. Such technologies include solutions to assist police agencies with the move to and implementation of the Internet of Things (IoT), mobile technology, impediments to communications barriers, digitization, and COVID-19 adaptations.
The cloud and/or Internet of Things (IoT) is mostly being utilized by using cameras and conducting "office" operations in real-time on the street. For example, many police agencies are encouraging people to install Amazon Ring cameras on their doorbells and people to install home security systems linked to the internet. Police body cameras are also being hooked up to the internet to be able to correspond with dash cams on police cruisers. With the addition of IoT, police officers can get their cruisers to be far smarter than their current incarnation, to the point of being a Robocop that only needs an officer in the car just to talk to the people their car gave a ticket to or picked up on their smart cameras.
The use of mobile technologies by police officers is also rising as agencies are looking for a seamless transition between the office and the street as well as looking for ways to conduct their "office" work in real time while on the street. These include smart watches, smart phones, and tablets. These mobile devices can also be hooked up to biometric data, automatic license plate readers, as well as apps for managing instructions for dealing with suspects, in terms of identification and location and directions to the location of suspects. Additionally, filing reports with a mobile RMS tool will also be much easier than it would be if there was no mobile technology, as with mobile technology, one need not go back to the office for each report a policeman needs to file.
New police technology will also remove barriers to communication. The use of drones can give officers and others throughout a jurisdiction pictures of a situation. Dispatchers, through the use of cameras enhanced with artificial intelligence and facial recognition, and gunshot reporting technology, can get information about a suspect that can be transmitted to an officer so that he or she would know what a suspect would look like or know other important details that could make a very big difference in helping an officer handle a situation better and quicker.
As law enforcement agencies don't operate in a vacuum and as the world is becoming more digital, police forces and other 1st responders must adapt as well. Information is the lifeblood for policing and the ability to gather, store, and analyze the information in real time and from anywhere is crucial for police forces to succeed in their day-to-day job. Therefore, the market for intelligence & investigative tools and software for law enforcement is forecast to grow at a much higher rate than the command and control segment. Record management system (RMS) solutions hold the largest share of the market and are forecast to continue being the largest. However, other technologies are expected to grow at a faster rate. The emergence of new investigative & intelligence software technologies, which enable law enforcement agencies to gather and analyze more data at a faster pace, are expected to boost the market. Relatively newer solutions, such as body-worn cameras, digital (mobile) forensics, crime analytics, predictive policing and lawful intercept are expected to grow more common and are estimated to become major growth engines.
Lastly, since the onset of COVID-19, many in-person jobs have been made remote to help slow the spread of the disease. To support remote work, or simply as a backup plan, public safety agencies will need to expedite the implementation of digital software and web-based applications that will allow them to continue doing their job seamlessly.
Check out our new report regarding the Law Enforcement Software Market 2020-2025