Aviation Security Challenges and Opportunities
Check out our latest research on this topic: Global Homeland Security & Public Safety Market – 2014-2022
U.S. Explosives Screening (ETD, EDS & X-Ray) Systems Sales,
Service, Upgrade & Installation Markets – 2009-2014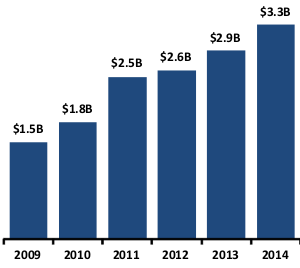 After five years of tepid growth, the explosives detection screening market is poised to undergo its second surge since September 2001. The failed Christmas Day bombing of a Northwest airliner in Detroit and Osama Bin Laden's message to President Obama warning of future attacks underscored a simple, yet powerful truth, that in spite of the over $40 billion spent globally on aviation security infrastructure since September 2001, the aviation industry remains as vulnerable to terror today as it was nine years ago.
Despite efforts to tighten security, over 50% of the "explosives" placed in checked luggage by government "red teams" went undetected by the screeners and, while there is a commitment to screen 100% of all air cargo on passenger flights, less than 5% is actually screened by explosive detection means, including trained canines.
In the US alone, recent events have resulted in an additional $2.05 billion being earmarked for aviation security. The need to close the gap between aviation security policy and practice is but one of the driving factors, discussed in three distinct Homeland Security Research Corporation reports, behind a forecast surge in the explosives detection technologies market.
The three reports:
Discuss the economic factors impacting seven sub-markets:
Air cargo screening
Airport-cabin baggage screening
Secured facilities screening
Postal items screening
Supply chain cargo screening
1st responders bomb search
Other x-ray explosives screening markets
Identify the drivers propelling this growth:
White House-mandated deployment of state-of-the-art explosives and weapons screening systems at airports;
$1.05 billion earmarked in the "2009 American Recovery and Reinvestment Act" for the purchase and installation of explosives detection technologies over the next 3 years;
$ 1 Billion earmarked by president Obama last week to upgrade aviation security
$1.57 billion of the TSA's $8.03 billion FY2010 budget is intended for the purchase and installation of explosives detection systems (i.e., ETD, EDS, X-Ray systems); and,
Between 2010 – 2014, the TSA will install advanced systems that are already being tested and evaluated
Analyze four different market segments:
Seven end-customer sub-markets;
Systems markets and post warranty system upgrade & service markets;
Present and future technologies business opportunities by threats & vulnerabilities – (e.g., Fused technologies systems, multi threat systems);
Market drivers & inhibitors