Saudi Arabia – 2nd Largest HLS Market in the World
Check out our latest research on this topic: Saudi Arabia HLS and Public Safety Market – 2014-2018
Increasing concern over Iran's growing influence, backed by its nuclear ambitions, as well increased Al-Qaeda activity in the region, has triggered a rapid increase in the quality and quantity of security systems being purchased by Saudi Arabia and other Gulf states. Of particular urgency is the need to upgrade the defenses of critical infrastructure such as oil refineries, pipelines and terminals. This effort includes a plan to build a 35,000-man oil industry protection force and "unprecedented coordination of air defenses and expanded joint exercises between the U.S. and Arab militaries".
With a cumulative homeland security market valued at $97 billion (2010 – 2018), Saudi Arabia is the second largest, and among the most unique, HLS/HLD markets in the world. Responsible for protecting 24% of the world's oil reserves, the Kingdom has created a complex maze of 24 HLS-HLD organizations numbering more than 250,000 people
Saudi Arabia Homeland Security/Homeland Defense
Market Growth by [$Billion] – 2008-2018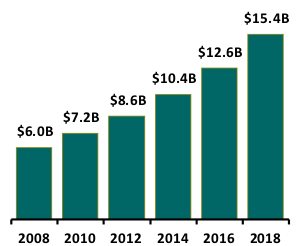 Actively spending its resources on state-of-the-art technologies and services, Saudi Arabia is creating unparalleled business opportunities, some of which include:
Saudi border fence – Thousands of kilometers of state-of-the-art border & perimeter protection technologies
Security of the Hajj Annual Pilgrimage – An Olympics-size event
Oil Industry Security – Additional 35,000 people, doubling airport and maritime security personnel
Private Sector Security – Banking & Financial, Utilities Infrastructure, Transportation
HSRC's groundbreaking report, Saudi Arabia Homeland Security Market Outlook – 2010-2018, is a product of years of research, personally led by HSRC's Chairman, Dan Inbar. The result is a comprehensive roadmap of this fascinating Homeland Security market.
For Table of Contents, please click here
A better insight of this market research, you can find here.