Standoff Terrorist Detection: Multi-billion Dollar Market Born
Check out our latest research on this topic: Standoff Person-Borne and Vehicle-Borne Explosives & Weapon Detection: Technologies and Markets – 2012-2016
Gain essential market intelligence and capitalize on the market opportunities being created by double-digit CAGR 2010-2014 of this $4+ billion market.
This year will be remembered as the year in which the multi-billion dollar standoff terrorist detection market was born. Like the introduction of Radar and Identification of Friend or Foe (IFF) technologies during WWII, the maturity and deployment of several standoff technologies capable of detecting suicide and other terrorists at a safe distance will change the landscape of homeland security and the war against terror.
HSRC's recent publication, Global Standoff Terrorist Detection Technologies & Markets – 2010-2014, presents detailed analysis and forecasting of this rapidly evolving market in 305 pages, 174 figures, 91 tables, including more than 80 sub-market forecasts.
Profit from in-depth analysis of seven standoff detection systems sub-markets:
Concealed Explosives & Weapon Standoff
Detection Systems
Walk-by Threat Sensing Systems
Pass-through Threat Detection Corridors
Standoff Biometric Identification Systems
Standoff Behavior Detection & Tracking Systems
Vehicle Standoff Threat Detection Systems
Standoff Video Content Analysis Based Systems
Each sub-market is analyzed and forecast by: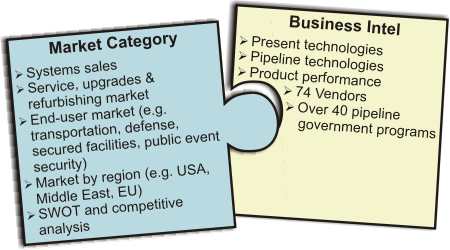 To give you a better insight of this market research, follow this link