Research Reveals that State and Local HLS-HLD Market Larger than DHS
Check out our latest research on this topic: U.S. Homeland Security & Public Safety Market – 2013-2020
Over the next five years, the US HLS-HLD market (federal, state and local governments, and the private sector) will grow at a CAGR of at least 5% from $69 billion in 2010 to $85 billion by 2014.
HSRC's newest release, US Homeland Security & Homeland Defense (HLS-HLD) Markets – 2010 – 2014, is the most comprehensive review of the world's largest HLS-HLD market available today.
The US HLS-HLD Market [$B] by
Procurement Authority– 2010 & 2014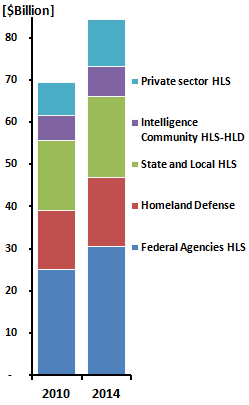 The report provides a "bottom-up" and "top-down" description of the US HLS-HLD arena. Its granular analysis covers more than 580 sub-markets, including: federal, state and local governments, the private sector, technology sectors, and specific programs. It also presents funding and markets forecasts for more than 460 sub-markets.
Contrary to what many in the industry believe, the report reveals that:
The "state & local" HLS market is larger than the DHS and DOJ markets combined. This market (i.e. 50 states and over 30.000 counties and cities) represents 23% of the total HLS-HLD business opportunities.
The DHS does not dominate the market. DHS controls only 19% of the total HLS-HLD market. Focusing exclusively on the DHS will overlook 81% of the HLS-HLD market.
The "private sector" HLS procurement represents 12.5% of the market.
The Homeland Defense (HLD) and Intelligence Community establishment control 29% of the HLS-HLD market.
With more than 890 pages, 425 tables, 470 figures, including state-specific contact information, this report provides essential market intelligence on approximately 40% of the global HLS-HLD market.
To gain greater insight into this report, please click here.