Description
The Climate Change Information Technologies & Markets – 2022-2030 – With Corona & COP26 Impacts report contains a thorough analysis of 5 technologies, 5 regional, 5 revenue source and 60 national markets, detailing 310 markets.
In nearly all climate change-mitigation sectors, information technologies will play a key role in optimizing operation, systems and materials development, decision-making, and suppressing GHG.

Source:  itrade.gov.il
According to the report:
The 2020-2030 CAGR is 17.9%.
Following Russia's invasion of Ukraine, governments consider sweeping changes to planning laws and investments to improve their Climate Change Information Technologies and Cybersecurity.
Increased investments in Climate Change Information Technologies occupies a significant role in climate change mitigation strategies.
This market report is the utmost comprehensive review of the Climate Change Information Technologies market available today.
Questions answered in this report include:
What will the 2022-2030 market size be?
How do the COP26 & Corona affect the market?
Which submarkets provide attractive business opportunities?
What drives customers to invest?
What are the technologies trends?
What are the challenges to market penetration & growth?
How much are countries expected to invest in Climate Change Information Technologies?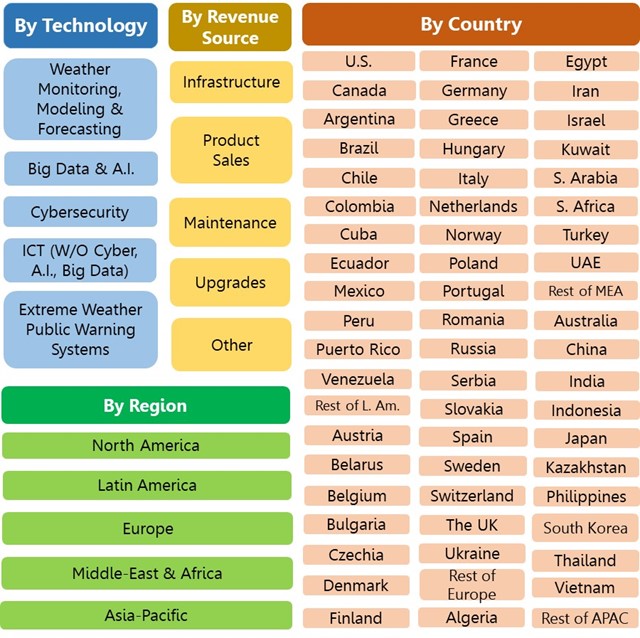 Climate Change Information Market Segmentation Vectors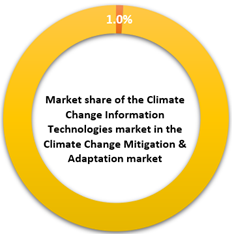 What does the Climate Change Information Technologies & Markets – 2022-2030 – With Corona & COP26 Impacts report give you?
A. The Climate Change Information Technologies market size data is analyzed via four independent perspectives.
1. By 5 Climate Change Information Technologies:
Weather Monitoring, Modeling & Forecasting
Extreme Weather Public Warning Systems
Big Data & A.I.
Cybersecurity
ICT (W/O Cyber, A.I., Big Data)
 2. By 5 Revenue Source Markets:
Infrastructure
Product Sales
Maintenance
Upgrades
Other
3. By 5 Regional Markets:
North America
Latin America
Europe
Middle East & Africa
Asia Pacific
4. By 60 National Markets:
The U.S.
Canada
Argentina
Brazil
Chile
Colombia
Cuba
Ecuador
Mexico
Peru
Puerto Rico
Venezuela
Rest of Latin America
Austria
Belarus

Belgium
Bulgaria
Czech Republic
Denmark
Finland
France
Germany
Greece
Hungary
Italy
Netherlands
Norway
Poland
Portugal
Romania

Russia
Serbia
Slovakia
Spain
Sweden
Switzerland
UK
Ukraine
Rest of Europe
Algeria
Egypt
Iran
Israel
Kuwait
Saudi Arabia
South Africa

Turkey
UAE
Rest of MEA
Australia
China
India
Indonesia
Japan
Kazakhstan
Philippines
South Korea
Thailand
Vietnam
Rest of Asia-Pacific
B. Detailed market analysis frameworks are provided, including:
Market drivers & inhibitors
Business opportunities
SWOT analysis
Competitive analysis
Business environment
The 2020-2030 market
Industry Value Chain   
Financing & Loans       
Governmental R&D Funding    
C. Companies mentioned in the report: 
Accenture
AccuWeather Inc.
AiCure
Airmar Technology Corporation
Alibaba
All Weather, Inc.
Amazon
Apple
Arm Limited
Asiainfo-Sec
Atomwise, Inc.
Ayasdi AI LLC
Baidu, Inc.
Beijing Leadsec Technology
Broadcom (Symantec)
Campbell Scientific  
Check Point
Cisco
Clarifai, Inc
Columbia Weather Systems
Cyrcadia Health
DBAPPSECURITY

Dell
Deloitte
Enlitic, Inc.
EY
Fortinet
Lufft Mess-und Regeltechnik
Google

H2O.ai.
H3C
Hangzhou DPtech Technology
Hillstone
HP
Huawei
HyperVerge, Inc.
IBM
IBM
IBM Watson Health
Infosys
Intel Corporation
International Business Machines Corporation
Iris.ai AS.

Microsoft
NSFOCUS
NVIDIA Corporation
Oracle
Palo Alto Networks
PwC
QIANXIN
Samsung
Sangfor Technologies
SAP
Sensely, Inc.
Skye Instruments 
StormGeo
Sutron Corporation
TCS
The Weather Company  
TOPSEC
Vaisala OY
Venustech Group
Zebra Medical Vision, Inc.
D. 35 Traded Companies are mentioned in the report
Why Buy:
Bottom-up Research. The report provides you with exhaustive bottom-up research of 310 Climate Change Information related markets.
Unique Analysts Team. Our multilingual team brings 40 years of hands-on record in the industry, corporate positions of chairperson, CEO, CTO, chief scientist, VP R & R&D, VP marketing, $8 B of products commercialization. The team published 352 market reports.
Extensive Research.  The report research team conducted interviews with dozens of experts. It reviewed over 380 reports, documents and papers published by other experts (including, for example, DOE, IEA, IRENA, the UN, the White House, the EU, US Congress CRS, the UK, German, PRC, Indian and other government agencies, SEC filings, investors' presentations and more).
Multi-Source Intelligence Verification. With a highly fragmented market, we addressed each dollar spent. The global warming mitigation market was analyzed and crosschecked via 4 orthogonal viewpoints: technologies and services, countries, revenue sources and regions.
COP26 Revision. To guarantee the accuracy of the data and market size forecasts, we revised the report by following and analyzing the Glasgow COP26 meetings deliberations and investment pledges.
Money Trail. The report is the only study of 'when?', 'where?', 'why?' and 'how much?' of the expenditure go to market.
Report Excel. Once you buy the report, you can get for a nominal price its Excel version.
Customized for Decision-Makers. This report aims to provide today's strategic decision-makers with an expert 360-degree, time-sensitive, detailed view of this interconnected market.