Description
The Climate Change Adaptive Agriculture and Water Technologies & Markets – 2022-2030 – With Corona & COP26 Impacts report contains a thorough analysis of 11 technologies, 5 regional, 5 revenue source and 60 national markets, detailing 316 markets.
Percision Irrigation


 Source: itrade.gov.il

IPCC 2022 The Impact of Temperature Change on Water Security by Region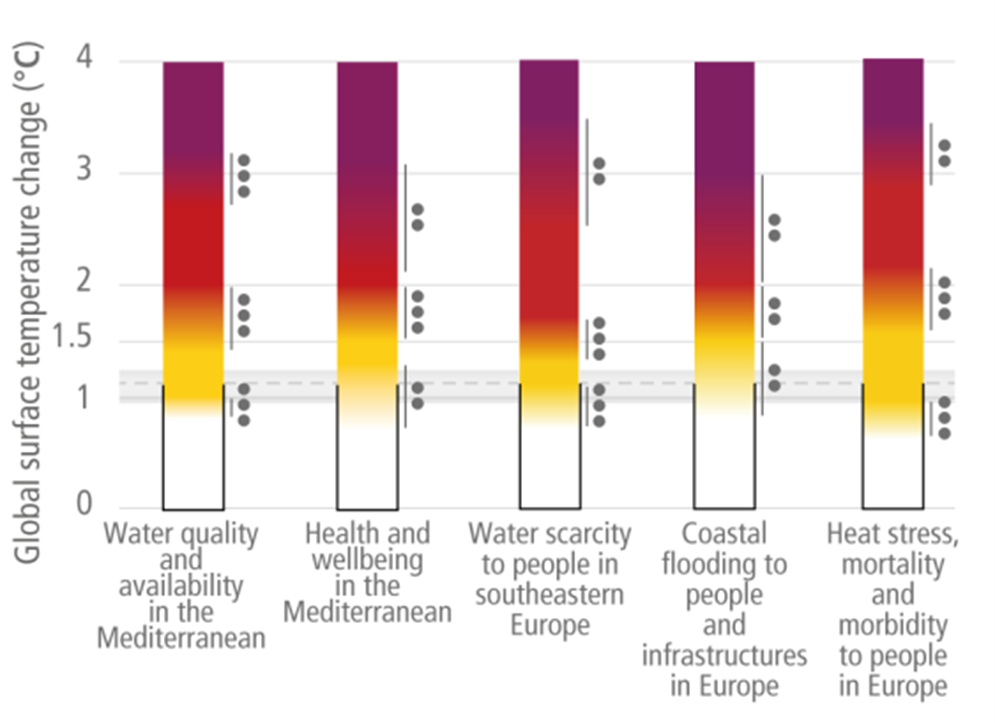 Source: IPCC Report Feb. 28, 2022
According to the report:
The U.S. EU and China will spend >55% of the global expenditure
Many overlook the markets of the Climate Change Adaptive Agriculture & Water (e.g., desalination plants, precision agriculture, water infrastructure, Precision Agriculture, Regenerative agriculture, Climate Adapted Water Infrastructure, Water Redeemable Systems, Precision Irrigation, climate adapted agriculture and more
The 2020-2030 CAGR is 19.5%
The Russia's invasion of Ukraine caused a shortage in Agriculture products (e.g., grain). Governments consider sweeping changes to planning laws and investments to improve their food supply
Increased investments in Adaptive Agriculture and Water Technologies occupies a significant role in climate change mitigation strategies4
Key market drivers are:
End users, Governments and Investors' enthusiasm for financing Climate change adaptation Agriculture & Water projects is substantial and growing.
Availability of key Climate Change Adaptive Agriculture and Water technologies, and their cost-performance improvement at a fast pace
Multi-trillion business opportunities that presents the Climate Change Adaptive Agriculture and Water market
Unprecedented public support (> 60%), which drives governments and the private sector to invest in the green revolution
Government subsidies and investments
This market report is the utmost comprehensive review of the Climate Change Adaptive Agriculture and Water market available today.
Questions answered in this report include:
What will the 2022-2030 market size be?
How do the COP26 & Corona affect the market?
Which submarkets provide attractive business opportunities?
What drives customers to invest?
What are the technologies trends?
What are the challenges to market penetration & growth?
How much are countries expected to invest in Climate Change Adaptive Agriculture and Water?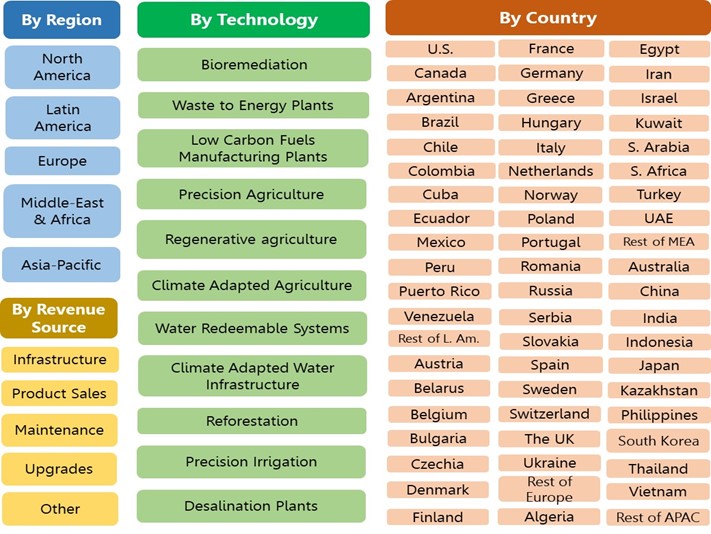 Climate Change Adaptive Agriculture and Water Market Segmentation Vectors
What does the Climate Change Adaptive Agriculture and Water Technologies & Markets – 2022-2030 – With Corona & COP26 Impacts report give you?
A. The Climate Change Adaptive Agriculture and Water Technologies & Markets size data is analyzed via four independent perspectives.
1. By 11 Climate Change Adaptive Agriculture and Water Technologies:
Bioremediation
Waste to Energy Plants
Low Carbon Fuels Manufacturing Plants
Precision Agriculture
Regenerative agriculture
Climate Adapted Water Infrastructure
Water Redeemable Systems
Precision Irrigation
Desalination Plants
Climate Adapted Agriculture
Reforestation
 2. By 5 Revenue Source Markets:
Infrastructure
Product Sales
Maintenance
Upgrades
Other
3. By 5 Regional Markets:
North America
Latin America
Europe
Middle East & Africa
Asia Pacific
4. By 60 National Markets:
The U.S.
Canada
Argentina
Brazil
Chile
Colombia
Cuba
Ecuador
Mexico
Peru
Puerto Rico
Venezuela
Rest of Latin America
Austria
Belarus

Belgium
Bulgaria
Czech Republic
Denmark
Finland
France
Germany
Greece
Hungary
Italy
Netherlands
Norway
Poland
Portugal
Romania

Russia
Serbia
Slovakia
Spain
Sweden
Switzerland
UK
Ukraine
Rest of Europe
Algeria
Egypt
Iran
Israel
Kuwait
Saudi Arabia
South Africa

Turkey
UAE
Rest of MEA
Australia
China
India
Indonesia
Japan
Kazakhstan
Philippines
South Korea
Thailand
Vietnam
Rest of Asia-Pacific
B. Detailed market analysis frameworks are provided, including:
Market drivers & inhibitors
Business opportunities
SWOT analysis
Competitive analysis
Business environment
The 2020-2030 market
Industry Value Chain   
Financing & Loans       
Governmental R&D Funding    
Levelized Cost of Energy- 2020-2040
C. Companies mentioned in the report: 
ABB Environmental Services Inc.
Abengoa
Acciona
Aerobotics
Ag Leader Technology
AGCO Corporation
AgJunction, Inc.
Alfa Laval
Alter Eco Americas Inc
Altogen Labs
Ameret Llc
Amii Sp. z o.o.
Aquaphor
Aquatech International
Barchemicals
Bentley Systems
Berghof Membrane Technology
Berluto Armaturen GmbH
Bernardinello Engineering S.p.a.
Bertfelt Teknik AB
bestUV BV
Binder Engineering B.V.
Bioactive Services Inc.
BioEnTech
Bio-Microbics, Inc.
Bioremediation Consulting Inc.
Bioremediation Services Inc.
Bioremedy Pty. Ltd.
Biotek Environmental Science Ltd.
BIO-UV Group
Biwater
Blount International
Blücher GmbH
Blue Foot Membranes NV
Bluebird Grain Farms
BLUEMATER SA
Blupura
BML METAL MANUFACTORY CO., LTD
Bokju Co., Ltd.
Bona Water Purification
Borg & Overström
Bosman Watermanagement B.V.
Buckman Laboratories International Inc
Cadagua
Cargill, Inc
Carus Corp.
Caterpillar
Changzhou Boyuan Plastic Co.,Ltd

CropMetrics LLC
DAGAGA Co., Ltd.
Danone S.A.
Deere & Company
Deere and Company
Degremont Sas
Doosan Heavy Industries
Doosan Infracore
Dow
DroneSeed
Drylet Llc
Eco Blue Bioremediation Canada
Ecolab Engineering GmbH
Ecolog
EG&G Inc.
Emerso
Envirogen Technologies Inc.
Evoqua Water Technologies
Ferrovial
Fisia Italimpianti
Fiton Group
Fluence
FPZ SPA
Gebrüder Heyl Vertriebsgesellschaft für innovative Wasseraufbereitung mbH
General Electric
General Mills Inc.
Genesis Water Technologies
Geovation Engineering P.C.
Grounded South Africa
Haining BEISHI Environment Protection Technology CO., LTD
Hitachi Construction Machinery
Hitachi Zosen Corporation
Hitachi, Ecoprog GmbH
Hyflux Ltd
IDE Technologies
Insight Robotics
Integrated Forest Management
Ivey International Inc.
Jain Irrigation Systems Ltd.
JRW Bioremediation Llc
Kankyo Cleantech Llp
Koch Membrane Systems
Koch Separation Solutions
Komatsu Forest AB
Lambda Bioremediation Systems Inc.
Lindsay Corporation
Livingcare Co., Ltd.
Makona Hardware And Industrial (Pty.) Ltd.

Metito
Microgen Biotech Ltd.
Nelson Irrigation Corporation
Nestlé S.A.
Netafim Ltd.
New Leaf Tree Syrups
Oil Spill Eater International Corp.
Pall Corporation
Pingluo Baojun Activated Carbon Co.,Ltd. | China
POLTANK SAU
Ponsse
Probiosphere Inc.
QM Environmental International B.V.
Quantum Spatial
Rain Bird Corporation
Raven Industries
Regen AG
Reinke Manufacturer
Renovagen Ltd.
Rivulis Irrigation Ltd.
RNAS Remediation Products
Rottne Industri AB
Safbon Water Technology
Sampo Rosenlew
Sevenson Environmental Services Inc.
Shandong Sukahan Bio-Technology Co. Ltd.
SHENZHEN FONTUS TECHNOLOGY CO., LTD.
Siemens
Silvere
Soil Capital Ltd.
SPC Biomicrogel Company Ltd
SUEZ
Suez Environnement S A
Sustainable Bioremediation And Phytoremediation Operations
The Toro Company
Tigercat
Topcon Corporation
Treemetrics
Treevia Forest Technologies
Trident Environmental Llc
Trimble
VEOLIA
Veolia Water Technologies Techno Center Netherlands B.V.
Verde Environmental Group
WABAG
Water Care Filter srl
WETICO
XYLEM
Zhuhai Wangyang Water Treatment Equipment
Why Buy:
Bottom-up Research. The report provides you with exhaustive bottom-up research of 316 Climate Change Adaptive Agriculture and Water related markets.
Unique Analysts Team. Our multilingual team brings 40 years of hands-on record in the industry, corporate positions of chairperson, CEO, CTO, chief scientist, VP R & R&D, VP marketing, $8 B of products commercialization. The team published 352 market reports.
Extensive Research.  The report research team conducted interviews with dozens of experts. It reviewed over 380 reports, documents and papers published by other experts (including, for example, DOE, IEA, IRENA, the UN, the White House, the EU, US Congress CRS, the UK, German, PRC, Indian and other government agencies, SEC filings, investors presentations and more).
Multi-Source Intelligence Verification. With a highly fragmented market, we addressed each dollar spent. The global warming mitigation market was analyzed and crosschecked via 4 orthogonal viewpoints: technologies and services, countries, revenue sources and regions.
COP26 Revision. To guarantee the accuracy of the data and market size forecasts, we revised the report by following and analyzing the Glasgow COP26 meetings deliberations and investment pledges.
Money Trail. The report is the only study of 'when?', 'where?', 'why?' and 'how much?' of the expenditure go to market.
Report Excel. Once you buy the report, you can get for a nominal price its Excel version.
Customized for Decision-Makers. This report aims to provide today's strategic decision-makers with an expert 360-degree, time-sensitive, detailed view of this interconnected market.