Global Video Analytics, VCA, ISR & Intelligent Video Surveillance Markets Will Surge at a 2016-2022 CAGR of 18.2%, Says a New Research Report from Homeland Security Research Corp.
WASHINGTON DC, NOVEMBER 16, 2016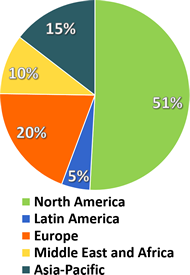 According to a new market research report " Global Video Analytics, VCA, ISR & Intelligent Video Surveillance Markets "" 2017-2022", published by Homeland Security Research Corp., this market is .forecasted to grow at a CAGR of 18.2% during 2016-2022 . The report analyzes and investigates the market SWOT, business opportunities and the market in 49 countries and regions, granulated into 167 submarkets.
Browse through the Table of Contents of this in-depth market report that includes 202 market information tables and 206 figures at: https://hsrc.biz/2016/10/Global-Video-Analytics-VCA-ISR-Intelligent-Video-Surveillance-Market-2017-2022/
The rapidly growing number of video cameras and " Internet of Things" applications drive the " Video Imaging of Everything" proliferation with the linked video analytics and VCA markets.
Security video surveillance, smart transportation systems, safe cities, autonomous driverless vehicles, UAVs, body police cameras, smart retail video systems and social media video streams are only some of the video feeds that users are exploiting to boost their performance. Video surveillance and video analytics are creating a closed and connected world, and will become increasingly powerful tools.
Nowadays, with the advancement of intelligent video processing and analysis, video cameras and ICT systems are being widely used in public and private places for security surveillance. Governments, municipalities and law enforcement agencies are increasingly using video surveillance technologies. With the help of advanced technologies, security, military and intelligence services are saving crucial time in life- threatening situations by singling out faces in crowds, detecting suspicious movement patterns and activities, and tracking suspects or missing persons.

The market is set to undergo a major transformation from 2017-2022 through the following drivers:
The fast proliferation of video cameras
The 2015-2016 terror inflicted in Europe and MEA
The election of Donald Trump as U.S. president, promising throughout his campaign to hike the U.S. defense budgets and to invest in law and order (e.g., "I am the law-and-order candidate"), will significantly increase the federal U.S. video surveillance related budgets
Safe City projects
Technology maturity: video analytics algorithms, processors, applications and products underwent a decade of technological evolution to intelligent video processing, based on advancements in image processing, enabling automatic and semi-automatic detection and identification of signatures
Price reduction of video analytic systems, driven by the falling prices of image processing DSPs and communication systems
Improved cost-performance of new edge-based video analytic DSP technologies (e.g., Intel, .Bosch and Texas Instruments VA DSPs)
The rapidly growing " Internet of Things" applications drive the " Video Imaging of Everything" proliferation
HD video cameras cost-performance follows Moore's law
High cost of human operators & high rate of overlooked events
Defense-related intelligent video surveillance, ISR analytics, robotics and video guided munitions markets boom
Autonomous driverless vehicles
The Global Video Analytics, VCA, ISR & Intelligent Video Surveillance Markets "" 2017-2022 consists of 1140 pages, 202 tables, 206 figures, analyses 57 current and pipeline technologies and 110 leading vendors. The report that covers 49 regions/countries, is granulated into 167 submarkets, presenting for each submarket 2015 data, 2016 estimate and 2017-2022 market forecast and technologies from several perspectives.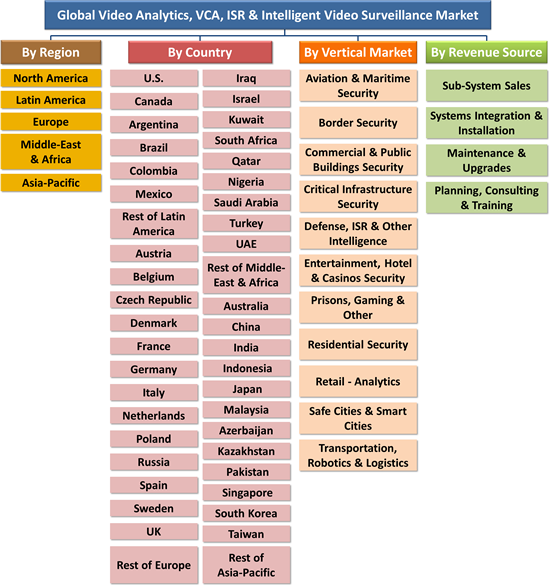 Questions answered in this 3-volume mega report include the following:
What will the market size of 167 sub-markets be in 2022?
What are the main vertical market trends?
Where and what are the business opportunities?
What are the market drivers and inhibitors?
Who are the key vendors?
What are the challenges to market penetration?
What are the main technology trends?
The report focuses on "Video Analytics, VCA, ISR & Intelligent Video Surveillance", which is part of the Video Surveillance & Analytics Market. Other reports that include video analytics and surveillance components are:
Explore more Homeland Security and Public Safety Reports at.https://hsrc.biz.
About Homeland Security Research Corp. (HSRC)
Homeland Security Research Corp. (HSRC) is an international market and technology research firm specializing in the Homeland Security (HLS) & Public Safety (PS) industry. HSRC provides premium off-the-shelf and customized market reports on present and emerging technologies and industry expertise, enabling global clients to gain time-critical insight into business opportunities. HSRC's clients include the U.S. Congress, DHS, U.S. Army, U.S. Navy, DOD, DOT, GAO, NATO and EU, among others; as well as government agencies in Japan, Korea, Taiwan, Israel, Canada, UK, Germany, Australia, Sweden, Finland, Singapore. With over 750 private sector clients (72% repeat customers), including major defense and security contractors and Fortune 2000 companies, HSRC earned the reputation as the industry's Gold Standard for HLS & PS market reports.
Washington D.C. 20004, 601 Pennsylvania Ave., NW Suite 900,
Tel: 202-455-0966, info@homelandsecurityresearch.com, hsrc.biz