France's Homeland Security & Public Safety Market is set to Increase by 106% from 2015 to 2020, Says a New Research Report from Homeland Security Research Corp.
WASHINGTON DC, MAY 3, 2016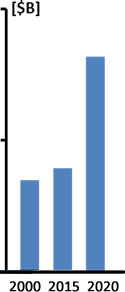 The November 13, 2015 Paris well planned terror attacks demonstrated that the present French security and intelligence infrastructures do not have the resources to address future ISIS terror challenges leading to a major overhaul of France's internal security infrastructure and funding.
According to Homeland Security Research Corp. (HSRC) new report, France Homeland Security & Public Safety Market "" 2016-2022, France's Homeland Security Market is set to undergo a major expansion, sustaining a massive 15.6% 2015-2020 CAGR surge, nearly five times the pace of the previous 5 year period.
"France is at war […] the security pact will have precedence over the stability pact" President Francois Hollande
As stated by the French president, the government is fully aware of the fact that France is facing problems with a far greater reach than its economic ones. ISIS terror threats coupled with the surge in arrival of millions of migrants to Europe are alarming. .Apart from declaring a 6-month state of emergency, the president guided the government to fund whatever is necessary to combat terrorism.
France's Homeland Security & Public Safety Market is set to transform from 2016-2022 through the following drivers:
The Friday November 13 Paris terror carnage shook France unlike any other recent terror attack, since 9/11.
Up to 1,600 French nationals traveled to fight in Syria and Iraq and approximately 2,000 French citizens are involved in extremist Islamic cells in France.
Europol estimates that up to 5,000 European jihadists have returned to the continent after obtaining combat experience on the battlefields of the Middle East.
The EU-Turkey deal, if implemented, could lead to a significant reduction in the flow of refugees. However, the agreement faces formidable practical, political and legal challenges.
France's market for security & safety products is sophisticated and well served. Local defense and security companies are well entrenched in the French market. Even with a preference for locally manufactured products, foreign products can usually strongly compete on the basis of price and innovation. They do not encounter any direct trade barriers or quotas. Non-tariff, indirect trade barriers may be the approval process of dual-use goods, which include various security market products.
The France Homeland Security & Public Safety Market "" 2016-2022 report is the most comprehensive review of France's internal security market available today. The two volume report consists of 475 Pages, 66 Tables, 151 Figures and 51 Submarkets, it covers 9 Vertical, 9 Technology and 3 Revenue Source core Submarkets, offering for each of them 2015 data and assessments, and 2016-2022 forecasts and analyses. .
Customers who purchase a multi-readers license of the report will also receive "Global Homeland Security & Public Safety Industry – 2016 Edition" report free of charge. Single Reader license customers will receive a 50% discount for the Industry 2016 report.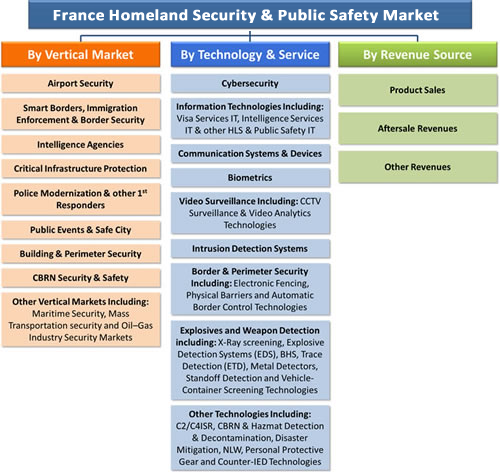 Questions answered in this report include the following:
What will the market size and trends be during 2016-2022?
Which submarkets provide attractive business opportunities?
What drives the customers to purchase solutions and services?
What are the customers looking for?
What are the present and pipeline technologies?
What is the market SWOT (Strengths, Weaknesses, Opportunities and Threats)?
What are the challenges to market penetration & growth? 
The report is part of the "Europe's Terror & Migration Crisis Series" reports which focus on the European Counter-Terror and Public Safety Market. Other reports in the series include:
Explore more Homeland Security and Public Safety Reports at.https://hsrc.biz.
About Homeland Security Research Corp. (HSRC)
Homeland Security Research Corp. (HSRC) is an international market and technology research firm specializing in the Homeland Security (HLS) & Public Safety (PS) industry. HSRC provides premium off-the-shelf and customized market reports on present and emerging technologies and industry expertise, enabling global clients to gain time-critical insight into business opportunities. HSRC's clients include the U.S. Congress, DHS, U.S. Army, U.S. Navy, DOD, DOT, GAO, NATO and EU, among others; as well as government agencies in Japan, Korea, Taiwan, Israel, Canada, UK, Germany, Australia, Sweden, Finland, Singapore. With over 750 private sector clients (72% repeat customers), including major defense and security contractors and Fortune 2000 companies, HSRC earned the reputation as the industry's Gold Standard for HLS & PS market reports.
Washington D.C. 20004, 601 Pennsylvania Ave., NW Suite 900,
Tel: 202-455-0966, info@homelandsecurityresearch.com, hsrc.biz