Explosives Trace Detection Technologies & Market Will Increase at a 2015-2022 CAGR of 6% Says a New Research Report from Homeland Security Research Corp.
WASHINGTON DC, NOVEMBER 24, 2016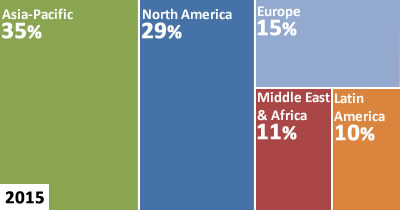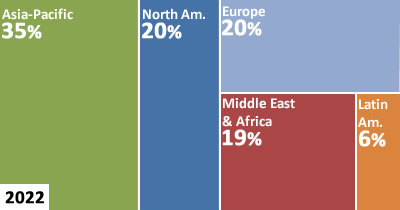 The past 3 years have seen explosive-based terror account for 56% of over 36,000 worldwide terror attacks. The widespread use of improvised explosives drive security agencies and private sector critical infrastructure security managers to increase their spending on explosives trace detection (ETD) devices. According to the report it will .create a solid 2016-2022 CAGR of 6%.
The 2015-2016 ISIS-inspired and other terror groups bombings .and attacks across Europe, the Middle East and Africa will drive governments to rise funding for overhauling their counter terror explosives screening checkpoints.
According to Homeland Security Research Corp. (HSRC) new report, Explosives Trace Detection Technologies & Global Market "" 2017 – 2022, the explosives trace detection technologies & global market will grow at a 2015-2022 CAGR of 6%. An increased demand for explosive trace detection technologies and weapons detection products had already commenced after the November 2015 carnage in Paris. The growing number of vehicle-borne explosive and other IED attacks across the Middle East and Africa in 2014-2016 have emphasized the growing need of security decision-makers to increase their capabilities in the explosive screening sphere.
A major on-going challenge is the detection of homemade improvised explosives like TATP (used by the Paris and Brussels bombers) HMTD. TATP & HMTD are attractive as a terror weapon because they are relatively easy to prepare and, until recently, could not be detected by standard explosives screening methods. TATP and HMTD precursors can be easily found in hardware stores or beauty salons (e.g., nail polish removers). Furthermore, improvised explosives like hydrogen peroxide, acetone, and mineral acid can be purchased in large quantities.

The market is set to undergo a transformation from 2016-2022 through the following drivers:
Improvised explosive devices (IEDs) are the terrorists weapon of choice
The ISIS-inspired complex and well-planned Paris and Brussels carnage (162 killed and 668 injured) sent shockwaves across the continent. These attacks shook the European governments and their security agencies unlike any other terror attacks since 9/11.
Middle East and Africa terror and the war in Syria Iraq and Yemen
With no "magic bullet" technology in sight, the challenge that remains unresolved is to find ways to stop terrorists from detonating explosives in crowded, unscreened public areas.
The election of Donald Trump as U.S president who has promised, throughout his campaign, a tough fight against Islamist extremism terror at home and abroad as well as investing in law and order (e.g. "I am the law-and-order candidate"), will boost .U.S. federal Explosives Trace Detection related budgets
During the past 3 years, explosive-based terror accounted for 56% of over 36,000 worldwide terror attacks
The projected 2017-2022 Air Passengers and Cargo CAGR of 5%
Growth of the Asia-Pacific airport industry markets
The need to replace or upgrade thousands of outdated ETD devices with state-of-the-art systems
The Explosives Trace Detection (ETD): Technologies & Global Market report, segmented into 43 submarkets offers for each submarket 2015-2016 data and assessments, and 2017-2022 forecast and analysis. In 610 pages, 130 tables and 135 figures, the report analyzes and projects the market and technologies from several perspectives, including:
5 Vertical markets (transportation security, secured facilities, defense, 1st responders & others)
5 National markets (U.S., Saudi Arabia, China, India, Japan)
5 Regional markets, North America, Latin America, Europe, ME&A and Asia Pacific
4 Revenue Sources: sales, MRO, training and other revenue sources
3 Product Configurations (hand-held, table-top and other ETDs)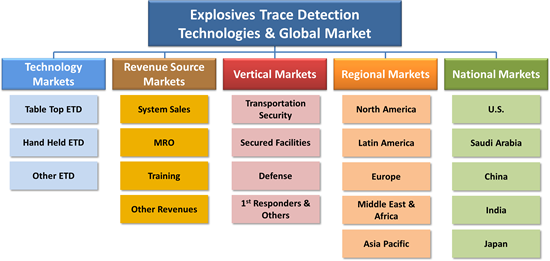 Questions answered in this report include the following:
What will the ETD market size be in 2017-2022?
What are the key and pipeline ETD technologies?
What are the key ETD market trends?
What are the opportunities to increase your market share?
What is driving this market?
What are the inhibitors to your growth?
What are the risks to your market share?
Who are the key vendors in this market?
What are the threats faced by the key vendors?
Other reports revolving around Explosives Trace Detection (ETD) technologies and markets include:
Explore more Homeland Security and Public Safety Reports at.https://hsrc.biz.
About Homeland Security Research Corp. (HSRC)
Homeland Security Research Corp. (HSRC) is an international market and technology research firm specializing in the Homeland Security (HLS) & Public Safety (PS) industry. HSRC provides premium off-the-shelf and customized market reports on present and emerging technologies and industry expertise, enabling global clients to gain time-critical insight into business opportunities. HSRC's clients include the U.S. Congress, DHS, U.S. Army, U.S. Navy, DOD, DOT, GAO, NATO and EU, among others; as well as government agencies in Japan, Korea, Taiwan, Israel, Canada, UK, Germany, Australia, Sweden, Finland, Singapore. With over 750 private sector clients (72% repeat customers), including major defense and security contractors and Fortune 2000 companies, HSRC earned the reputation as the industry's Gold Standard for HLS & PS market reports.
Washington D.C. 20004, 601 Pennsylvania Ave., NW Suite 900,
Tel: 202-455-0966, info@homelandsecurityresearch.com, hsrc.biz