European Video Security Surveillance and Video Analytics Markets will surge at a 2015-2020 CAGR of 15.5% Says a New Research Report from Homeland Security Research Corp.
WASHINGTON DC, MAY 5, 2016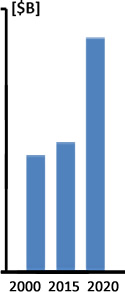 The Paris and Brussels 2015-2016 terror attacks have demonstrated the central value of Video Surveillance and Video Analytics, which gave the French and Belgian Security Forces time-critical information leading to the identification of the terror network and enabled them to evade several pending high profile terror attacks (e.g., the terror attack on a Belgian nuclear reactor).
According to Homeland Security Research Corp.'s (HSRC) new report, European Homeland Security & Public Safety Video Surveillance & Video Analytics Markets "" 2016-2022: following a decade of steady (CAGR of 8.3%) market penetration, the market will experience a CAGR of 15.5% during .2015-2020 period.
Video surveillance (associated with real-time video analytics) is a critical component for Intelligence Agencies and Security Forces. .It took the London Metro police and MI5 210 officers two weeks to manually screen thousands of hours of video footage to identify the terrorists. In the Boston marathon case, none of the security agencies CCTV cameras recorded the events; luckily, a store (Land & Tailor) had the critical footage. Since then, Boston invested approximately $150 million in a state-of-the-art video surveillance system and a control and command hub.
The Paris and Brussels terror attacks have demonstrated that video surveillance and analytics systems play a time critical role in apprehension of terrorists and mitigation of other high profile terror attacks. (e.g. the Belgian nuclear reactor in Doel)
A key challenge that the west European governments are facing when expanding video surveillance implementations is the trampling of basic "civil rights"; or more specifically the fear of "Big Brother". For example, in Germany where public opinion (and the Bundestag) is strongly opposed to any Communist or Nazi regime like Big Brother surveillances, the use of public video surveillance is legal as long as the footage is not recorded and /or stored.

The market is set to undergo a major transformation from 2016-2022 through the following drivers:
Nowadays, video security surveillance cameras and ICT systems are widely used in European public and private venues. Fortunately, the increased processing capability allows processing a large amount of video data in real-time. With the available infrastructure, an efficient and accurate intelligent video surveillance will create remarkable business opportunities.
The European video security surveillance market has grown at a CAGR of 8-10% over the past few years driven by rising concerns for security.
European governments, security agencies and the business sector show an increased demand for premium (high resolution, real time analytics and high cost,) security surveillance systems.
Technology maturity: video analytics algorithms, processors, applications and products underwent a decade of technological evolution to intelligent video processing, based on advancements in image processing, enabling automatic and semi-automatic detection and identification of threat signatures.
Video analytics is critical when it comes to human operators. These professionals entail a 24/7 high labor cost and a high rate of overlooked threats. Real-time video analysis of video streams and recorded footage is a need that can hardly be answered effectively by human operators due to manpower costs. Furthermore, human operators' fatigue and boredom cause a high rate of overlooked events.
Western Europe, the largest economy in the world with a 2015 GDP of approximately $22 trillion (vs. the U.S. $17.5 trillion), can invest "whatever it takes" to protect its citizens from the looming jeopardies of mass migration and terrorism.
The EU and the rest of the European video security surveillance market for products and services are served by local video and security companies. Even with a preference for locally manufactured products, foreign products can usually strongly compete on the basis of cost-performance. They do not encounter any EU direct trade barriers or quotas. Non-tariff, indirect trade barriers may be the approval process of dual use goods, which include various security market products.
The European Homeland Security & Public Safety Video Surveillance & Video Analytics Markets "" 2016-2022 consists of 238 Pages, 31 Tables, 49 Figures and 36 Submarkets. The report covers 12 countries and 3 revenue source submarkets, offering for each of them 2015 data and assessments, and 2016-2022 forecasts and analyses.
Customers who purchase a multi-readers license of the report will also receive the Global Homeland Security & Public Safety Industry – 2016 Edition report free of charge. Single Reader license customers will receive a 50% discount for the Industry 2016 report.
Questions answered in this report include the following:
What will the market size and trends be during 2016-2022?
Which submarkets provide attractive business opportunities?
Who are the decision-makers?
What drives the customers to purchase solutions and services?
What are the customers looking for?
What are the present and pipeline technologies?
What is the market SWOT (Strengths, Weaknesses, Opportunities and Threats)?
What are the challenges to market penetration & growth? 
The report is part of the "Europe's Terror & Migration Crisis Series" reports which focus on the European Counter-Terror and Public Safety Market. Other reports in the series include:
Explore more Homeland Security and Public Safety Reports at.https://hsrc.biz.
About Homeland Security Research Corp. (HSRC)
Homeland Security Research Corp. (HSRC) is an international market and technology research firm specializing in the Homeland Security (HLS) & Public Safety (PS) industry. HSRC provides premium off-the-shelf and customized market reports on present and emerging technologies and industry expertise, enabling global clients to gain time-critical insight into business opportunities. HSRC's clients include the U.S. Congress, DHS, U.S. Army, U.S. Navy, DOD, DOT, GAO, NATO and EU, among others; as well as government agencies in Japan, Korea, Taiwan, Israel, Canada, UK, Germany, Australia, Sweden, Finland, Singapore. With over 750 private sector clients (72% repeat customers), including major defense and security contractors and Fortune 2000 companies, HSRC earned the reputation as the industry's Gold Standard for HLS & PS market reports.
Washington D.C. 20004, 601 Pennsylvania Ave., NW Suite 900,
Tel: 202-455-0966, info@homelandsecurityresearch.com, hsrc.biz