European Police Modernization & First Responders Market is Forecasted to Increase by 95% from 2015-2022, Says a New Research Report from Homeland Security Research Corp.
WASHINGTON DC, MAY 5, 2016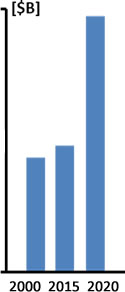 Europe's 2.55 million police officers and 820,000 first responders are facing ISIS terror attacks and threats coupled with the surge in entry of 1.8 million migrants (UN data) with far greater complexity than ever before.
According to Homeland Security Research Corp.'s (HSRC) new report, European Police Modernization & First Responders Markets "" 2016-2022, the market growth will nearly quadruple during the 2015-2020 period, at a CAGR of 14.3% compared with a CAGR of 3.7% in 2010-2015. In $ billion terms, the market will increase by 95% from 2015 to 2020. This forecasted growth is driven by the need to confront both the wave of ISIS inspired terror and the refugee crisis.
A unique case is the German 243,700 officers' police forces modernization: Germany's police forces and other 1st responder will procure 22% of the continent's market for police and 1st responders related goods and services.
This challenge was best stated in March 2016 by Mr. E. Walter, Chairman of the Federal Police (DPoIG): "Unlike France and Belgium, Germany cannot use its armed forces to increase readiness domestically because of constitutional prohibitions. That leaves Germany's police as the first and last line of defense and response to any terror attack; they're simply not equipped for the challenge. Where we are not prepared is with the policeman on the street; normally the first to confront terrorists to any terror are not prepared is with the policeman on the street; normally the first to confront terrorists. We need modern weapons. We need armed helmets against shooting by a Kalashnikov. We have very old weapons in the German police force. The machine guns are the machine pistol MP5 it is about 50 years old"

The market is set to undergo a major transformation from 2016-2022 through the following drivers:
The Paris and Brussels 2015-2016 terror attacks shook the European police agencies, governments and public unlike any other recent homegrown or ISIS-Da'esh-inspired terrorist attacks since they were complex and well-planned.
Western Europe, the largest economy in the world with a 2015 GDP of approximately $22 trillion (vs. the U.S. $17.5 trillion), can invest "whatever it takes" in its police forces to protect its citizens from the looming risks of terrorism and immigration.
The west European police forces are ill equipped to counter 21st century terrorists who use cutting edge encrypted communication, conduct superb pre attack intelligence by jihadists who have been trained by ISIS ex-Iraqi military officers on planning and conducting modern day guerrilla warfare and use modern weapons.
Europol estimates that up to 11,000 European jihadists (5000 in western Europe and 6000 in east Europe) have returned to Europe after obtaining combat experience on the battlefields of the Middle East.
The European Police Office (EUROPOL) estimates that there are 4 million unregistered illegal firearms in the Balkans, and over 30,000 military-grade weapons from the former Yugoslavia in circulation in west Europe.
The Law Enforcement, Police modernization & 1st Responder industry faces a considerable challenge in seeking to provide the necessary solutions to current and future threats. At the same time, this challenge presents immense opportunities to the defense and security industries able to deliver effective functions, integrate systems and maximize security and productivity per $ invested.
The EU and the rest of the European police & 1st responders' market for products and services are served by local defense and security companies. Even with a preference for locally manufactured products, foreign products can usually strongly compete on the basis of cost-performance. They do not encounter any EU direct trade barriers or quotas. Non-tariff, indirect trade barriers may be the approval process of dual use goods, which include many security market products.
The European Police Modernization & First Responders Markets "" 2016-2022 report consists 185 Pages, 21 Tables and 32 Figures. This report covers 12 countries and regions and 3 revenue source submarkets, offering for each of them 2015 data and assessments, and 2016-2022 forecasts and analyses.
Customers who purchase a multi-readers license of the report will also receive "Global Homeland Security & Public Safety Industry – 2016 Edition" report free of charge. Single Reader license customers will receive a 50% discount for the Industry 2016 report.
Questions answered in this report include the following:
What will the market size and trends be during 2016-2022?
Which submarkets provide attractive business opportunities?
Who are the decision-makers?
What drives the customers to purchase solutions and services?
What are the customers looking for?
What are the present and pipeline technologies?
What is the market SWOT (Strengths, Weaknesses, Opportunities and Threats)?
What are the challenges to market penetration & growth? 
The report is part of the "Europe's Terror & Migration Crisis Series" reports which focus on the European Counter Terror and Public Safety Market. Other reports in the series include:
Explore more Homeland Security and Public Safety Reports atֲ https://hsrc.biz.
About Homeland Security Research Corp. (HSRC)
Homeland Security Research Corp. (HSRC) is an international market and technology research firm specializing in the Homeland Security (HLS) & Public Safety (PS) industry. HSRC provides premium off-the-shelf and customized market reports on present and emerging technologies and industry expertise, enabling global clients to gain time-critical insight into business opportunities. HSRC's clients include the U.S. Congress, DHS, U.S. Army, U.S. Navy, DOD, DOT, GAO, NATO and EU, among others; as well as government agencies in Japan, Korea, Taiwan, Israel, Canada, UK, Germany, Australia, Sweden, Finland, Singapore. With over 750 private sector clients (72% repeat customers), including major defense and security contractors and Fortune 2000 companies, HSRC earned the reputation as the industry's Gold Standard for HLS & PS market reports.
Washington D.C. 20004, 601 Pennsylvania Ave., NW Suite 900,
Tel: 202-455-0966, info@homelandsecurityresearch.com, hsrc.biz