Multiple Drivers Spur Global Decontamination Market
Check out our latest research on this topic: CBRN & HAZMAT Incidents Decontamination: Technologies and Global Market – 2012 Edition
In its latest report, "Decontamination of CBRN and Hazmat Incidents Technologies & Global Markets, 2010-2014", Homeland Security Research Corporation reveals more than twenty new business opportunities created by, on the one hand, the world's increasing recognition of the threat presented by CBRN terrorism, and, on the other hand, a growing environmental consciousness that is impacting regulatory policy and public attitudes. Meeting both of these challenges has sparked a host of new, pipeline technologies and opportunities that have the global decontamination market poised for considerable growth.
Decontamination of CBRN & Hazmat
Incidents Global Market – 2010-2014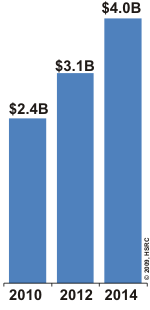 Forecasting a CAGR of 13.3%, which will move the total market from $2.4 billion in 2009 to $4.5 billion in 2014, HSRC believes that governmental actions, such as the EU Commission's recent adoption of a 132 point action plan on chemical, biological, radiological and nuclear (CBRN) security and the $billions in US federal funds allocated for the development and procurement of CBRN countermeasures are only two of the many factors influencing this market surge.
In 243 pages, 21 tables and 53 figures and graphs, the report analyses and projects the 2010-2014 market and technologies from several perspectives, including:
Market and technology forecast by modality: (e.g. people decon systems, facility decon systems, indoor and outdoor decon systems, equipment decon systems)
Market forecast by country/region: (e.g. USA, Europe, Asia, Latin America)
Government-sponsored R&D
In addition, the report:
Analyzes the market drivers and inhibitors;
Provides a competitive analysis;
Outlines the current and pipeline technologies;
Details new business opportunities and challenges
To gain a better understanding of the depth and breadth of this research and analysis, please click HERE for Table of Contents