Forecast: Explosive Detection Market Poised for Rebound
In another indication that DHS Secretary, Janet Napolitano, is intent on seeing that the $1.05 billion in supplementary American Recovery and Reinvestment Act (ARRA) funds earmarked for airport explosive detection equipment are allocated, DHS announced that it is releasing $31.3 million to be used to purchase and install new explosive detection systems at airports across the United States.
"These state-of-the-art technologies will bolster security for travelers across the country," said Secretary Napolitano."Infusing Recovery Act funds into critical airport projects will create jobs while making Americans safer."
Government funded security upgrades, as well as the need to create jobs, are only two of the many drivers that lead Homeland Security Research Corporation to forecast, in three new reports, an unexpected surge in the explosives screening technologies market.
The three reports:
U.S. Explosives Screening Systems, Service,
Upgrade & Installation Markets – 2008-2014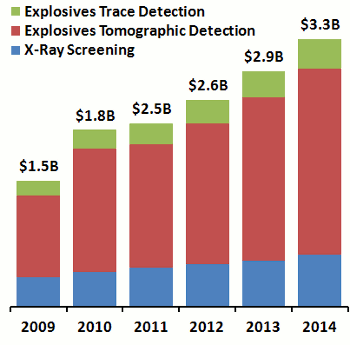 Discuss the economic factors impacting seven sub-markets:
Air cargo screening
Airport-cabin baggage screening
Secured facilities screening
Postal items screening
Supply chain cargo screening
1st responders bomb search
Other x-ray explosives screening markets
Identify the drivers propelling this growth:
White House-mandated deployment of state-of-the-art explosives and weapons screening systems at airports;
$1.05 billion earmarked in the "2009 American Recovery and Reinvestment Act" for the purchase and installation of explosives detection technologies over the next 3 years;
$1.57 billion of the TSA's $8.03 billion FY2010 budget is intended for the purchase and installation of  explosives detection systems (i.e., ETD, EDS, X-Ray systems); and,
The explosive detection industry has a choice: develop premium products or perish.
Analyze four different market segments:
Seven end-customer sub-markets;
Systems markets and post warranty system upgrade & service markets;
Present and future technologies business opportunities by threats & vulnerabilities – (e.g., Fused technologies systems, multi threat systems);
Market drivers & inhibitors