Homeland Security Markets – Expanding During the Economic Downturn
Check out our latest research on this topic: Global Homeland Security & Public Safety Market – 2014-2022
Despite the global economic crisis, the HLS-HLD (Homeland Security, Homeland Defense and Counter Terror Intelligence) markets are on course to double in volume over the 2009-2018 period.
HSRC's "Global Homeland Security, Homeland Defense & Intelligence Markets Outlook 2009-2018"
research forecasts that global HLS-HLD markets will exhibit a robust growth at a CAGR of 7.3% (for the period 2009-2018).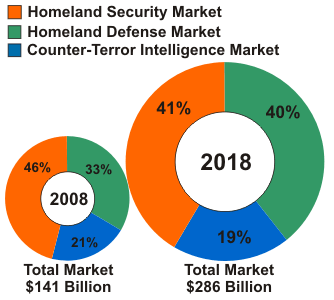 The following factors will impact this forecasted HLS-HLD market growth:
The Obama administration's adoption of Keynesian economics, expanding federally-funded HLS-HLD spending to curb economic recession
Increased funding in some key market sectors such as: Cyber Security ,Bio Defense, Information Technology, C3I, Perimeter and Border Security
The bi-partisan commitment to homeland security in the U.S
The Chinese government's internal security concerns at times of slow economic growth
Middle Eastern investments in regime stabilization, to counter threats from homegrown radical Islam
India's escalating Al-Qaeda terror activities
The need to replace ineffective counter terror technologies
In over 375 pages, 70 tables and 150 figures, this new report reviews trends, technologies, sectors and markets, and concludes that the lion share of this market's expansion will be financed by an ever-growing redirection of non terror-related national security budgets toward the homeland security, homeland defense and counter-terror intelligence sectors.
This market research provides exclusive insights into this vibrant industry, including analysis by 6 categories:
Market Segmentation by End Customer – (e.g., Government Agencies, Private Sector, State & Local, Intelligence Community, Armed Forces)
Market Segmentation by Geographical Territories – (e.g., Europe, North America. Latin America, middle East)
Market Segmentation by Mission Area – (e. g., Border & perimeter Security, Intelligence and Warnings, Domestic Counterterrorism)
Market Segmentation by Sectors – (e.g., Homeland Security, Intelligence Community and Homeland Defense Sectors)
Business Opportunities by Threats & Vulnerabilities – (e.g., CBRN, Maritime Security, Aviation Security, Infrastructure security)
Market Drivers & Inhibitors – Shaping the growth opportunities in Homeland Security & Homeland Defense Markets