Explosives Trace Detection Markets – Double Volume Over Next 5 years
Check out our latest research on this topic: Explosives Trace Detection (ETD): Technologies & Global Market – 2013-2020
Over the next five years, the US Explosive Trace Detection market can be expected to undergo significant growth.  HSRC's latest report, "US Explosives Trace Detection (ETD) Technologies & Markets 2010-2014", forecasts that US ETD markets will expand at a CAGR of 15%, from $182 million today to $421 million in 2014. 
 ETD Systems and Service Market Share by Application [%] – 2008 & 2014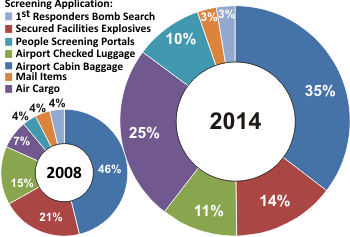 Among the factors driving growth in the ETD market are:
The Obama administration's commitment to accelerating the deployment of state-of-the-art airport cabin and checked-baggage screening systems;
Currently, no other modality can compete with ETD's cost-performance in the detection and identification of explosives;
The need to secure over 15,000 government and private sector secured facilities;
Bi-partisan Congressional pressure on the TSA  to implement 100% air cargo screening on scheduled passenger flights; and
The proliferation of ETD-based People Screening Portals as a response to negative public reaction toward MM-Wave and X-Ray based People Screening Portals.
To get a better insight into this market research, please click HERE.