Global Homeland Security – Past, Present and Future
Check out our latest research on this topic: Global Homeland Security & Public Safety Market – 2014-2022
The first seven years since 9/11 have been characterized by focusing HLS-HLD (Homeland Security and Homeland Defense) resources on urgent short-term needs, in an attempt to "harden" the free world's most critical terror targets against future terror attacks. The next decade, we forecast, will see an even faster growth of these same markets, along with the introduction of new technologies.
The following document reviews the global homeland security, homeland defense & counter terror intelligence (HLS-HLD) markets from 9/11 through 2018. The information presented here reflects some of the key findings of a new market report scheduled for publication by Homeland Security Research Corp. In over 700 pages, 600 tables and figures, the new report, titled: "Global Homeland Security, Homeland Defense & Intelligence Markets Outlook 2009-2018" provides a comprehensive global analysis and forecasts of HLS-HLD markets in 20 countries (e.g., USA, UK, Saudi Arabia, Belgium, Germany, UAE, China, India, Japan, and more). The report details the future trends of major HLS-HLD market sectors such as biometrics, aviation security, maritime security, HLS-HLD I.T., cyber terror CBRN security , Infrastructure security and more.
Here are some of our conclusions and forecasts:
The First Seven Years
America's Two-Prong Strategy
America's initial counter terror strategy included two main elements:
Take a proactive stance. Move aggressively against terrorist infrastructure in their host countries (e.g., Afghanistan, Iraq). This effort to destabilize the global terror networks and to prevent them from planning, staging and carrying out further attacks in continental US required the lion share of counter terror assets. The cost to the US alone of the global war on terror (GWOT) is estimated at over $2.5 trillion currently.
Create a defensive homeland security "belt" around the US. This part required about $ 450 billion, only 16 % of the total funding allocated so far by the US to combat terrorism.
Other Nations Strategy:
The rest of the world's nations took a defensive strategy and invested most of their counter terror resources in defending their own homelands. This part required a 7 years funding of more than $ 500 Billion.
The following figure depicts the markets for HLS-HLD from just before 9/11 through 2018.
Figure 1 : Global HLS-HLD Market Outlook: 2000 – 2018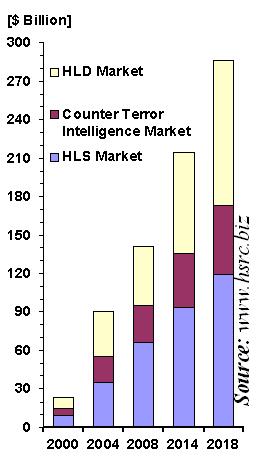 Distinguishing Features of This Period
During the period 2000-2008, the global HLS-HLD market grew by 600% (see Figure 1) – from $23 Billion by 2000 to $140 Billion by 2008.
Dramatic growth in the aviation security sector (post 9/11) represents a crucial step in re-establishing the flying public's confidence in its institutions.
There has also been a dramatic growth in allocations for counter-terror intelligence, as part of the general intelligence sector. This growth focused on surveillance in cyber space, databases, and automatic translations systems (particularly from esoteric languages).
In the area of bio- terror, the global HLS-HLD community invested about $40 billion in biological defense systems.
Despite the high priority given to nuclear/radiological terror threat by the White House, it failed to cast a comprehensive strategy while the HLS-HLD industry failed to develop effective nuclear-Radiological screening systems.
In many countries, such as China and the European Union, a significant effort focused on integrating new biometric identification means (e.g., e –passport, e-ID.).The US, on the contrary, lags behind significantly in this area, a problem anchored in considerations of Human Rights, and the historical struggle between states and the federal government.
In the area of HLD (Homeland Defense, is defined as the armed forces assets dedicated to terror protection of the homeland), there has been progress in many countries, including a transformation in targets, budgets. Military budgets and personnel levels. This was part of an attempt to give a real military style coverage to non-military solutions, including the re-routing of military resources toward containment of terror.
In all the other sectors of homeland security, such as infrastructure security, maritime security, first responders, command and control, etc., the world invested in the first seven years following 9/11 more than 100 billion – without achieving a significant security improvement.
Most significant HLS progressed can be seen in countries such as Great Britain, Israel, Turkey, Saudi Arabia, and United Arab Emirate.
Global HLS-HLD markets– The Next Ten Years
We forecast that during the2008-2018 period, the global HLS-HLD markets will grow by 81% – from a sum total of $140 billion in 2008, to about $254 billion in 2018. The global HLD/HLS market will grow from 0.25% of the global GDP in 2008 to about 0.36%. Most of this growth will come at the cost of reducing traditional military outlays.
While the notion of the global defense Industry is that they arrived at an all times high in orders backlog which will be followed by a market decliner. The global HLS-HLD market is robust and is forecasted to grow over the next 10 years at an impressive annual growth rate of 7-7.5%.
The Next Decade's Fastest Growing Market Sectors:
HLS-HLD related Information Technology (IT) systems
IT systems are a key tool to integrate millions of sensors, screening systems, intelligence sources, databases and operational assets into an effective HLS-HLD infrastructure.
HLS-HLD Related Command Control Communication & Intelligence (C3I) Systems
C3I and Net-centric systems will be introduced into most of the local
(e.g., Airports, seaports, smart cities) and government HLS-HLD real time operational counter terror headquarters.
HLS-HLD related Cyber security systems
The cyber world is becoming a major battlefield in the conflict with terrorism. Cyber security systems are becoming a major counter terror tools. The vulnerability of the cyber networks will only increase along with the demand for new counter terror cyber tools.
Biometric Identification systems (e.g., e-passport).
It is estimated that by 2018, about 2.5 billion global residents will have some sort of smart ID documents. The EU, India and China are leading this market. There are no clear indicators that the biometrics market will catch with the same passion in the US.
Nuclear/Radiological Logical Terror Mitigations Systems
This market is forecasted to grow rapidly once the technological and managerial issues are resolved.
Defending gas-oil energy facilities
Tens of $ billion will be allocated by the energy producing states to defend this important energy infrastructure.
Border Security
Many important and expensive border protection programs are currently on the table (Mexico US, Saudi borders) will be realized at a cost of more than $50,000.
Intelligence "SIGINT" systems
Surveillance, cyber space protection and cellular telephones will be used extensively by the worlds intelligence communities.
The Next Decade Largest National Markets:
The US will continue to be the dominant player in HLS – HLD market, with about 35% of the global procurement in this field.
Saudi Arabia is the world's second largest market. This market grows out of the need to defend the kingdom and their petro-chemical infrastructure from the threats of homegrown terror.
By 2016 China will surpass Saudi Arabia as the 2nd largest HLS-HLD market.
Britain, Germany, India and France are the next largest players in the Global HLS-HLD market.
China, India, Turkey, Saudi Arabia and UAE will exhibit the fastest market growth. This expansion comes from a combination of fast economic growth along with the increasing threats of terror elaborators.
The following figure depicts the coming decade's major counter-terror markets:
Figure 2: Global HLS-HLD Market 2018 Market Share by Country