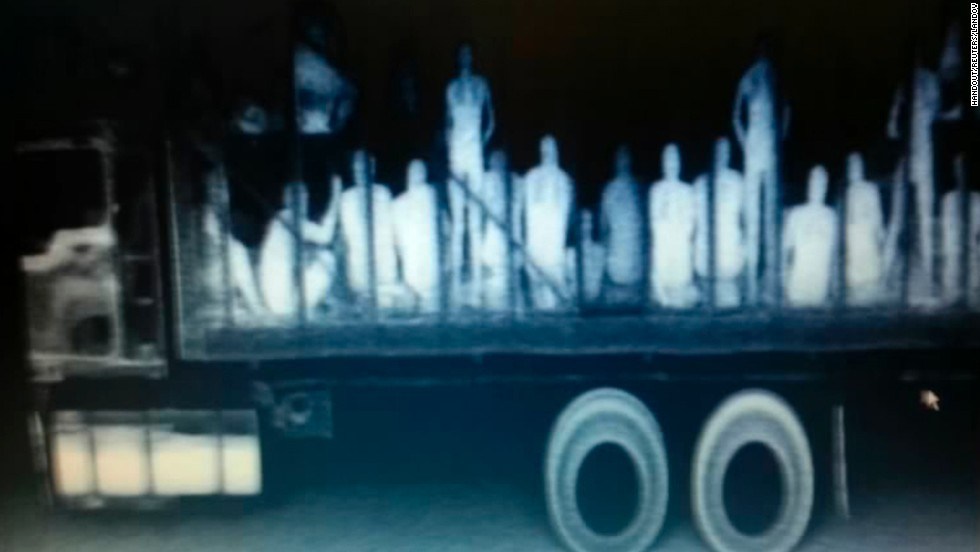 X-Ray to the Rescue? – How an X-Ray Machine helped Mexican Authorities locate 51 Migrants Hidden in a Truck
Earlier last week, over 50 Central American migrants were spotted hiding within the compartments of a truck, located at a checkpoint in the central state of Zacatecas. With the help of a large x-ray scanner, Mexican officials were able to detect these migrants. The migrants were from Ecuador, Nicaragua, El Salvador, Honduras, and Guatemala. From these 51 migrants, 21 were minors, who are now in the custody of the country's National Migration Institute (INM).
The x-ray displayed footage of bright silhouettes on the truck, which appeared as "ghost-like" figures. The footage showed some of the migrants sitting, and others lying down along two levels in crowded compartments.
Just a few weeks back, Former Prison Chief Francisco Garduno was appointed as the new head of the INM. Under Garduno, the immigration authority has made a number of high-profile captures of migrants smuggled in vehicles.
A recent report has been published by Homeland Security Research Corp. (HSRC), X-Ray Security Screening Systems (Aviation, Maritime, Land Transportation, Defense, Postal, Perimeter, Building, Baggage, Cargo, People, Container & Vehicle) Global Market – 2019-2024.  According to the report, despite years of development in screening technologies for weapons and explosives, there is no competitive modality in the market that challenges the cost performance of X-Ray screening technologies. Therefore, HSRC, forecasts that this multi-billion-dollar market will grow 33% by 2024.
In the light of the recent event and issues with border control in general, Mexico promised to make palpable progress in reducing the number of mainly Central American migrants trying to cross the U.S. border illegally.  According to Mexico's Foreign Minister Marcelo Ebrard, the attorney general has about 11 open investigations into migrant smugglers.
According to reports, the truck driver transporting these migrants had 225,000 Mexican Pesos ($12,000) in cash on him.
Although, not all details of this recent event have been made clear, human trafficking within Mexico has been an ongoing issue. During a press conference last month, Ebrard emphasized how the Mexican government will reinforce its fight against human trafficking.  "In this government, that is the instruction we have been given by the president … we should not be allowing human trafficking. Perhaps we are facing one of the most serious human trafficking in the world," Ebrard said. According to Ebrard, human trafficking represents an annual business of six billion U.S. dollars.
According to Mexican authorities, traffickers tend to use the cargo holds of tractor-trailers to transport migrants from the southern end of the country to the U.S.-Mexico border, a trajectory that could be as long as 1,800 km.
On June 7, the Mexican government reached an agreement with the United States that included the deployment of Mexican agents to the Mexico-Guatemala border.
U.S. President Donald Trump had earlier threatened to impose tariffs beginning June 10 on all imports from Mexico, if it did not stem the flow of undocumented immigrants.
Since January, around 600,000 migrants have arrived at the U.S. border after crossing Mexico. Among those, 10,000 are in Mexico awaiting a decision on their asylum requests, according to the Mexican government.
About Homeland Security Research Corp. (HSRC)
Homeland Security Research Corp. (HSRC) is an international market and technology research firm specializing in the Homeland Security (HLS) & Public Safety (PS) industry. HSRC provides premium off-the-shelf and customized market reports on present and emerging technologies and industry expertise, enabling global clients to gain time-critical insight into business opportunities. HSRC's clients include the U.S. Congress, DHS, U.S. Army, U.S. Navy, DOD, DOT, GAO, NATO and EU, among others; as well as government agencies in Japan, Korea, Taiwan, Israel, Canada, UK, Germany, Australia, Sweden, Finland, Singapore. With over 950 private sector clients (73% returning), including major defense and security contractors and Fortune 2000 companies, HSRC earned the reputation as the industry's Gold Standard for HLS & PS market reports.
Washington D.C. 20004, 601 Pennsylvania Ave., NW Suite 900,
Tel: 202-455-0966, info@homelandsecurityresearch.com, hsrc.biz
For more information, contact Naomi Sapir:
naomi@homelandsecurityresearch.com