Terror Threats Outlook
Twelve years after 9/11, the status of the free world's war on terror is inconclusive. .Al-Qaeda has lost its safe base in Afghanistan, but it is rebuilding another base in the Middle East, Africa and Pakistan. Although many Al Qaeda leaders have been captured or killed, new leaders have replaced them. Al-Qaeda faces some backlash, but other radical Muslims still volunteer to join the radical Islam movement and are ready to sacrifice their lives for their "holy cause."
It is likely that terrorism would increase and expand to many regions over the next ten years and the threat of terror-induced instability appears greatest with countries having large Muslim populations.
Pakistan and the Middle East regimes are threatened by jihadists favoring Sharia law, a recipe for revolution and changes in regime. In Southeast Asia Indonesia, which has the world's largest Muslim population, is home for deadly jihadist groups led by Jemaah Islamiyah. Malaysia is experiencing ethnic conflicts (low grade, so far) while the Philippines has an Al Qaeda-like terrorist movement.
While the Middle East is undergoing a buildup of radical and .violent Islamic terror, Southeast Asia can be the next battleground with 90% of East Asia's oil supply coming through the Straits of Malacca and fleets of ships filled with goods bound for the Middle East and Europe. Security experts are concerned that this vital economic artery will eventually come under terrorist pressure.
North African countries have the potential to become breeding grounds for terrorists as political and economic trends worsen.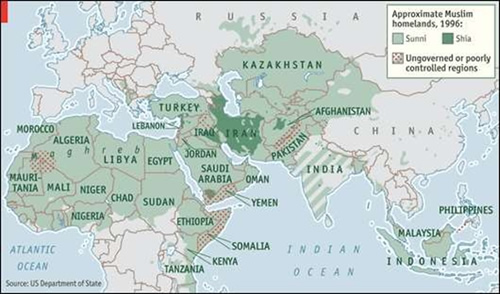 The Global Map of Islamic Population & Poorly Controlled Regions
As written in the 2010 edition of this report: "Egyptian President Mubarak has held his country together for over 25 years despite strong pressures from the Muslim Brotherhood movement and other fundamentalist groups. What comes after Mubarak is unclear; this unstable situation is similar in many North African and the Middle East countries".
It is clear to-date that all Arab Middle Eastern countries are under the serious threat of radical Islam.
Finally, we cannot ignore Europe and the rest of the free world where the threat of an increase in homegrown terrorism is real and serious.
In summary, the following six findings describe the present status of Al- Qaeda and other radical Islam terror groups:
There has been a substantial increase in Islamic terrorism.
Terror attacks by Islamist extremist groups have increased significantly during this time, even excluding attacks in Iraq, Afghanistan, and those related to the Israeli-Palestinian dispute.
The Jihadist movement remains vibrant and dynamic. Early claims about disruption of the Al Qaeda network were dramatically overstated. Only five of the twenty-two most wanted terrorists in 2001 have been captured or killed. Though some high-ranking Al Qaeda members have been eliminated, the organization has been able to promote or recruit members to replace losses.
Al Qaeda has expanded its reach globally by forging closer relationships with previously autonomous groups.
Active state sponsorship of terrorism has diminished worldwide.
U.S. foreign policy is perceived throughout the Muslim world as an aggressive, hostile, and destabilizing force.
More information can be found at: Global Homeland Security & Public Safety Market "" 2015-2022