Safe City Video Surveillance Technologies
Safe cities, law enforcement and private enterprises are all utilizing Video Surveillance Technologies to conduct security, commercial and transportation related tasks. Their greatest cost and limitation in taking fuller advantage of the wealth of captured images is the manpower required to decipher what is significant or of interest out of terabytes of images.
Video surveillance is a segment of the physical security industry, which also includes access control, fire detection and control, the technical management of buildings, systems to ensure individual safety and the detection of intrusion.
Video surveillance consists of remotely monitoring public or private places, using mostly power-operated cameras that transmit the images taken to monitoring equipment that records or reproduces the images on a screen. It captures images of moving people in order to monitor comings and goings, prevent theft, assault and fraud, as well as manage incidents and crowd movements.
Video Surveillance technology appears indispensable for monitoring operations and managing security incidents in a safe city environment. It is also an irreplaceable investigation tool for solving crimes, misdemeanors and disputes. However, it is not yet truly proven that video surveillance prevents security incidents or lowers crime rates.
A Video Surveillance network is a video system that transmits images in a closed loop. Once only analogue, CCTV networks now include digital Video Surveillance Cameras and support components. Access to the communication network can be gained by internet in certain cases. Only users with access rights to the network can access the information provided by the cameras.
The following constitutes the security activities of safe city Video Surveillance Cameras network:
Deterrence
Observation
Surveillance
Intelligence gathering
Assessment of and response to a possible incident
Assessment of and response an actual incident
Forensic analysis after an incident
Evidentiary analysis after an incident
There are three types of video surveillance:
Active: surveillance of an area to assist the on-site work of security officers or during emergency response.
Passive: an employee monitors a small number of television screens while doing other tasks.
Recording: makes it possible to collect information for investigation and evidence purposes. Recordings are kept for a specific period of time, depending on needs and record keeping space.
Various video technologies have been so compelling in their ability to solve significant video surveillance user challenges such that this field has begun to evolve, catching up with many other systems and applications.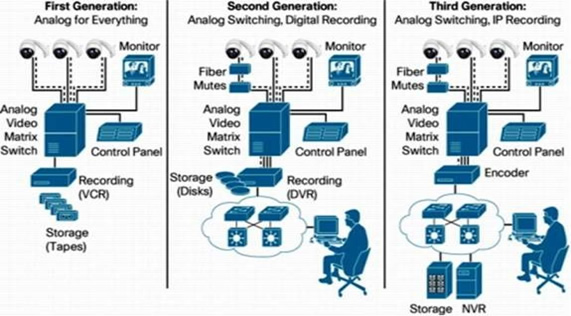 Video Surveillance Evolution

(Source: Cisco)
More information can be found at: Global Safe City: Industry, Technologies & Market "" 2015-2020