Resurgent X-Ray Explosives Screening Market
Check out our latest research on this topic: X-Ray Security Screening: Technologies & Global Market Outlook – 2012 Edition
The predicted death of the X-ray explosives screening market appears to have been pre-mature.  In its latest report, U.S. X-Ray Explosives Detection Technologies & Markets 2010-2014, Homeland Security Research Corporation forecasts that the market for modern X-Ray systems, upgrades and post warranty service will grow from $370 Million in 2008 to $735 in 2014 at a CAGR of over 12%. 
U.S. X-Ray Explosives Detection Markets by [$Billion] – 2008-2014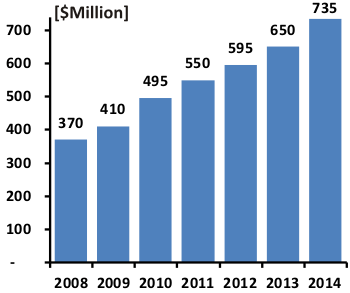 With more than 110 pages, 53 figures and 30 tables, this report presents the trends and business opportunities forecast for this market.
Understand the driving factors behind this growth
Learn how current economic conditions will impact seven sub-markets
Analyze the market from five different segments
To give you a better insight of this market research, please click Here for Table of Contents