Description
With 706  pages, 132  tables and  124   figures, the  Explosives Trace Detection (ETD) Technologies & Market – 2022-2026 – with COVID-19 Impact report contains a thorough analysis of 5 vertical, 5 technology sectors, 5 regional markets and 20 national markets detailing 2019-2026 market size.
This market report is the utmost comprehensive review of the global Explosives Trace Detection market available today. It is considered the industry's gold standard for ETD market research reports. The objective of this report is to provide today's strategic decision-makers with an expert 360-degree, time-sensitive, detailed view of this interconnected market.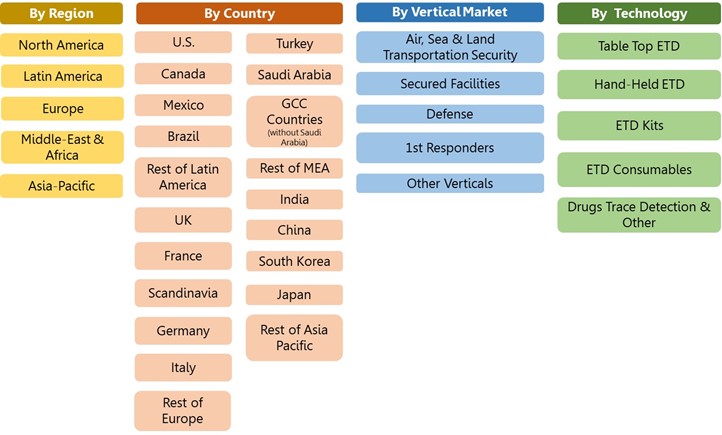 Global Explosives Trace Detection Market Segmentation Vectors
According to the report, the 2022-2026 Explosives Trace Detection market is affected by the following drivers and inhibitors:
Demand for multi-modal ETD systems.
The COVID-19 pandemic changed the world.
Increasing demand for automated ETD systems, requiring less (or more sophisticated) human intervention, raises ETD equipment and systems (relative to security personnel).
Increasing value-added ETD systems generated by 'soft' elements (software, data management, processing algorithms).
Replacement of outdated ETD systems.
China's internal security policy.
Terror and crime mitigation.
Why Buy Explosives Trace Detection (ETD) Technologies & Market – 2021-2026 Report?
A. Questions answered in this report include:
What is the ETD market size, and what are the market trends during 2022-2026?
What's the COVID-19 pandemic impact on the ETD market?
Which submarkets in this field provide attractive business opportunities?
What drives the ETD customers to purchase products and services?
What are the ETD technology & services trends?
What are the ETD Technology markets?
What are the challenges to market penetration & growth?
Which countries are expected to invest most in ETD capabilities within homeland security, public safety and national security organizations?
B. The Global Explosives Trace Detection (ETD) Market size data is analyzed via 4 independent key perspectives.  
With a highly fragmented market we address the "money trail" – each dollar spent in the global Explosives Trace Detection market is analyzed and crosschecked via 4 orthogonal viewpoints:
By 5 Technologies:

Table Top ETD
Hand-Held ETD
ETD Kits
ETD Consumables
Drugs trace detection & other technologies

By 5 Vertical Markets:

Air, Sea & Land Transportation Security
Secured Facilities
Defense
1st Responders & Others
Other verticals

By 5 Regional Markets:

North America
Latin America
Europe
Middle East & Africa
Asia Pacific

By 20 national markets:

U.S.
Canada
Mexico
Brazil
Rest of Latin America
UK
France
Scandinavian Countries
Germany
Italy
Rest of Europe
Turkey
Saudi Arabia
GCC Countries (without Saudi Arabia)
Rest of MEA
India
China
South Korea
Japan
Rest of Asia Pacific
C. Detailed market analysis frameworks for each of the market sectors including:
Market drivers & inhibitors
Business opportunities
SWOT analysis
Competitive analysis
Business environment
The 2019-2026 market
D. The Explosives Trace Detection (ETD) Market report includes the following nine appendices:
Appendix A: Market Background for 24 Countries
Appendix B: Current Explosives and Narcotics Detection Technologies
Appendix C: Pipeline ETD Technologies
Appendix D: Pipeline ETD Systems by Configuration and Application
Appendix E: ETD Business Opportunities
Appendix F: ETD Products: Prices, Features & Vendors
Appendix G: Checked Luggage EDS & ETD Screening Configurations
Appendix H: ETD Screening: ICAO Recommendations
Appendix I: TSA Air Cargo Facility Regulations
Appendix J: TSA Air Cargo Screening Technology List (ACSTL) – 2022
Appendix K: Authorized Air-Cargo Screening Facilities Roster
Appendix L: EU Screening Equipment Certification & Standards
Appendix M: The DOJ ETD Evaluation Protocol for 1st Responders
Appendix N: Consumables
Appendix O: The Narcotics Trafficking "Industry"
Appendix P: Improvised and Military Explosives
Appendix Q: IATA Airport Screening Checkpoints Recommended
Appendix R: Glossary & Abbreviations
E. The ETD market report provides updated extensive data on 26 leading Explosives Trace Detection Vendors (including companies' profile, products, contracts and contact info):
908 Devices
Airsense Analytics
Auto Clear
Astrotech Corporation
Biosensor Applications AB
Bruker Detection
Chemring Group
DetectaChem LLC
Electronics Sensor Technology
FLIR (Teledyne FLIR LLC)
GreyScan Australia Pty Ltd
Hitachi
Inward Detection
Leidos LLC
Mistral Security Inc

MS Technologies Inc.
Nuctech Co. Ltd.
OSI Systems, Inc.
Rapiscan Systems, Inc. (OSI)
Red X Defense
Rs Dynamics
Scanna MSC Ltd.
Scent Detection Technologies
Scintrex Trace
Sibel Ltd
Smiths Detection Inc.
Syagen Technology
Thermo Fisher Scientific Inc.
Westminster International Ltd.