Obama's Strategy Creates $37 billion Opportunity
Check out our latest research on this topic: Global Homeland Security & Public Safety Market – 2014-2022
According to new report "Afghanistan Government National Security Markets – 2010-2014", scheduled for release on December 9th, an Afghan "train and equip" program (2010 – 2014) will cost the US approximately $65 billion over the next five years (2010-2014) and present US businesses with over $37 billion of opportunities.
Afghan National Security Markets [$ Billion] – 2009-2014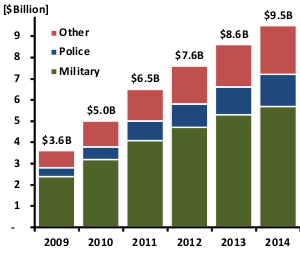 As the report indicates, the task of building an effective national army and police already engaged in a persistent conflict is enormous and the resources needed vast and varied. The Afghan military-security infrastructure is in need of everything from weapons, trucks and aircraft, to military communication gear, C-3I systems and counter-IED technologies.
Along with analyzing the institutions, agencies and procurement services being developed, the report's 340 pages, 133 tables and 155 graphs, describes the market by:
Procurement Agencies Policies and Procedures: e.g. US Army Corps of Engineers, CERP, Afghanistan Security Forces Fund, ANA, ANP, Afghan private sector
Technology needs and challenges: e.g. Afghan- related training methods and technologies, counter-IED technologies, simplified systems
Afghan End Customers: Afghan government, ANA, ANP, Air Force, intelligence community and private sector.
Sub-Markets:
Light Weapons: e.g. Rifles , Machine Guns, Mortars, Ammunition
Artillery: e.g. Howitzers, Artillery, C3I
Military Vehicles: e.g, Armored Humvees, Ambulances, MRAPs, Medium Tactical Vehicles, Semi-Trailers, Pick-up trucks
Critical Infrastructure Security: e.g. Utilities ,Transportation, Airports
Military Communications: e.g. Manpack Radios, Vehicle-Mounted Transceivers, Satellite Communications, Secure Voice/Data Systems
Counter-IED Equipment: e.g. Radio and I.R. Jammers, Robots
Maintenance, Upgrade and Refurbishing Services
Perimeter Security: e.g. Construction, Sensors , C-3I Systems
Information technologies and Biometrics
Military & Police Training
ANA & ANP Facilities Construction
Air Force: e.g. Rotary and Fixed-wing Aircraft, Ground Support Systems
Intelligence: e.g.  C3I, SIGINT,  IT.
More than six months in the making, and adjusted to account for the Administration's new strategy, this landmark report offers unparalleled insight into afghan National security market that is expected to increase from $5.6 billion in 2009 to $15.3 billion by 2014. With the US supplying over 90% of the funds and the DOD overseeing the process, it is a safe assumption that 90% of the contracts will be awarded to US firms.