Conference Reaffirms Afghan Market Growth
Afghan National Security
Markets – 2009 & 2014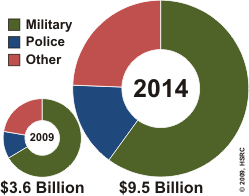 More than forty foreign ministers attending yesterday's International Conference on Afghanistan endorsed President Karzai's plan to have Afghani security forces assume responsibility for the country's security by 2014.
As forecast in Homeland Security Research Corporation's report, "Afghanistan Government National Security Markets – 2010-2014", meeting this objective will entail an Afghan "train and equip" program (2010 – 2014) that will cost the US approximately $65 billion over the 2010-2014 period and present over $37 billion of business opportunities.
The task of building an effective national army and police already engaged in a persistent conflict is enormous and the resources needed vast and varied. The Afghan military-security infrastructure is in need of everything from weapons, trucks and aircraft, to military communication gear, C-3I systems and counter-IED technologies. The success of this initiative will dictate the course of the conflict and the depth and duration of America's
involvement.
Along with analyzing the institutions, agencies and procurement services being developed, the report's 340 pages, 133 tables and 155 graphs provide an analysis of over 57 sub-markets for which HSRC presents 2009-2010 funding and market size data, as well as 2011-2014 forecasts, data and analysis.
Additionally, the report includes:
Procurement Agencies Policies and Procedures: e.g. US Army Corps of Engineers, CERP, Afghanistan Security Forces Fund, ANA, ANP, Afghan private sector.
Technology needs and challenges: e.g. Afghan- related training methods and technologies, counter-IED technologies, simplified systems.
Afghan End Customers: Afghan government, ANA, ANP, Air Force, intelligence community and private sector.
Examples of the sub-markets surveyed include:
Light Weapons: e.g. Rifles , Machine Guns, Mortars, Ammunition
Artillery: e.g. Howitzers, Artillery, C3I
Military Vehicles: e.g. Armored Humvees,Ambulances, MRAPs, Medium Tactical Vehicles, Semi-Trailers, Pick-up trucks
Critical Infrastructure Security: e.g. Utilities ,Transportation, Airports
Military Communications: e.g. Manpack Radios, Vehicle-Mounted Transceivers, Satellite Communications, Secure Voice/Data Systems
Counter-IED Equipment: e.g. Radio and I.R. Jammers, Robots, Maintenance, Upgrade and Refurbishing Services
Perimeter Security: e.g. Construction, Sensors, C-3I Systems
Information technologies and Biometrics

Military & Police Training
ANA & ANP Facilities Construction

Air Force: e.g. Rotary and Fixed-wing Aircraft, Ground Support Systems
Intelligence: e.g. C3I, SIGINT, IT.
More than six months in the making, and adjusted to account for the NATO's revised strategy, this report offers unparalleled insight into the Afghan national security market which is expected to increase from $5.6 billion in 2009 to $15.3 billion by 2014.
To gain a better understanding of the depth and breadth of this research and analysis, please click here