Commercial Satellite Imaging for Homeland Security: Emerging Market
The National Applications Office is a new DHS body, clearing access of law enforcement, border security, Coast Guard and other agencies to satellite feeds. This move, while generating wide discussions over privacy issues and legal implications, may also have a profound impact on the market for commercial satellite imagery.
Currently access to satellite feeds is mostly in the domains of DOD and Intelligence Community. On the DOD side, Strategic Command coordinates all military and civilian space assets while Air Force Space Command acquires and operates the majority of military satellites. The National Reconnaissance Office (NRO) operates the nation's intelligence satellites, often known as national technical means (NTM).
Entrance of DHS into the sea of satellite information opens a window of opportunity for the vendors of commercial satellite imagery. A report of Homeland Security Research Corporation 2007-2011 U.S. Homeland Security (Government & Private) Market Outlook forecasts that the U.S. Homeland Security markets, driven by the government and private sectors, will grow from about $24 Billion in 2006 to $35 Billion by 2011. Not a small share of this market is the acquisition of the intelligence data from the private sector.
The two main advantages of commercial imagery are the lack of legal restrictions on their use over the United States and its unclassified nature. Privately owned commercial systems do not face the same restrictions as national systems. Their unclassified products can easily be distributed to anyone, provided the proper licenses are bought. This is important because many homeland-security agencies, especially at state and local levels, do not have the necessary security clearances for national imagery. Also, the dissemination of these products can be done through the Internet, thus providing quick and easy access. The commercial satellite technology can map the border, ports and airports; potentially detect a tunnel under the border by seeing earth disturbances or unusual vegetation patterns and help the Coast Guard to zero in on a ship's location. Because of these advantages, commercial imagery, as it becomes more available, can become a major source of data from space for homeland security. The picture below is high resolution image of the auxiliary terminal at the King Khaled International Airport, Ryad, Saudi Arabia (source: DigitalGlobe, Google Maps).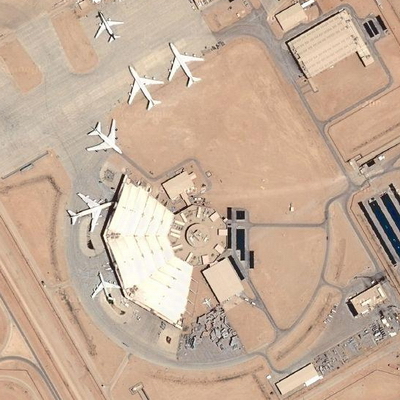 The following three commercial satellite companies are wll poised to benefit from new developments around a newly established the National Applications Office:
GeoEye – The company operates two Earth-imaging satellites, IKONOS and OrbView-2, two mapping aircraft, possesses an international network of regional satellite receiving ground stations and has advanced geospatial imagery processing capabilities. GeoEye's satellite can see objects as small as three feet, and the company plans to launch a second satellite next spring that will be able to see objects as small as 16 inches.
DigitalGlobe – The company operates a constellation of high resolution earth imaging satellites, providing 60 centimeter panchromatic and 2.4 meter multispectral imagery. Digital Globe launched its second satellite in September 2007 and plans a third in late 2008. The new satellite has a resolution of about 20 inches and circles the globe every 1.7 days.
Spot Image is a French operator of remote-sensing satellites. The company's main shareholders are CNES (41%) and EADS (40%).
A commercial satellite owned by Space Imaging (acquired by GeoEye) took some of the most widely recognized pictures of the 9/11 attack. The New York governor's office contacted Space Imaging directly to request information on the use of satellite imagery for disaster assessment and emergency management. It set a precedent where a state went directly to a private company rather than a federal agency for help on using space assets.