Afghan Strategy Boosts HLS Market
Check out our latest research on this topic: Afghanistan National Security Markets – 2011-2016
An essential component of the US-led coalition strategy in Afghanistan is to convince the majority (some estimates suggest 90%) of low and mid-level insurgents– referred to as the "upset brothers" — who are fighting for reasons of coercion, money and/or discontent with the government, and little to do with the philosophy espoused by the Taliban or Al-Qaeda, to lay down their arms. Borrowing from the strategy successfully used in Iraq, an effective "surge", combined with an accelerated training program for the Afghan security forces are critical to creating an environment in which these men can revert to non-combatant status and support themselves and their families. Unfortunately, the timetable for the deployment of 40,000 additional coalition troops is slipping, delaying the envisioned offensive, slowing the pace of training and giving the insurgents additional time to prepare.
Afghan National Security Markets by [$Billion] -2009-2014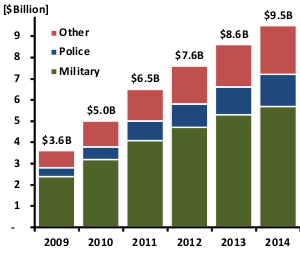 Attacks on coalition targets are likely to increase in advance of the bulk of the forces being deployed. Operations will most likely be directed at emblematic targets that destroy infrastructure and kill combatants, while, of equal importance, highlighting the deficiencies of the Afghan government and military. If successful, this trend will create even greater demand for immediate, tangible results from the "train and equip" mission.
Over the next five years (2010-2014), the Afghan "train, equip and maintain" program will cost the US approximately $65 billion and present US businesses with over $37 billion of opportunities. Understanding the players and processes involved in directing and implementing the "train, equip and maintain" program is essential to capitalizing on these opportunities.
Homeland Security Research Corporation's latest release, "Afghanistan Government National Security Markets – 2010-2014",contains unparalleled insight into the Afghan national security market, which is forecast to increase from $5.6 billion in 2009 to $15.3 billion by 2014. In FY2010 alone, the DOD earmark for the Afghan security forces is $7.5 billion.
Along with analyzing the institutions, agencies and procurement services being developed, the report's 340 pages, 133 tables and 155 graphs, describes the market by:
Procurement Agencies Policies and Procedures: e.g. US Army Corps of Engineers, CERP, Afghanistan Security Forces Fund, ANA, ANP, Afghan private sector.
Technology needs and challenges: e.g. Afghan- related training methods and technologies, counter-IED technologies, simplified systems.
Afghan End Customers: Afghan government, ANA, ANP, Air Force, intelligence community and private sector.
Sub-Markets:
Light Weapons: e.g. Rifles , Machine Guns, Mortars, Ammunition
Artillery: e.g. Howitzers, Artillery, C3I
Military Vehicles: e.g, Armored Humeves, Ambulances, MRAPs, Medium Tactical Vehicles, Semi-Trailers, Pick-up trucks
Critical Infrastructure Security: e.g. Utilities ,Transportation, Airports
Military Communications: e.g. Manpack Radios, Vehicle-Mounted Transceivers, Satellite Communications, Secure Voice/Data Systems
Counter-IED Equipment: e.g. Radio and I.R. Jammers, Robots
Maintenance, Upgrade and Refurbishing Services
Perimeter Security: e.g. Construction, Sensors , C-3I Systems
Information technologies and Biometrics
Military & Police Training
ANA & ANP Facilities Construction
Air Force: e.g. Rotary and Fixed-wing Aircraft, Ground Support Systems
Intelligence: e.g. C3I, SIGINT, IT.
To gain a better understanding of the depth and breadth of this research and analysis, please click HERE for Table of Contents.