Description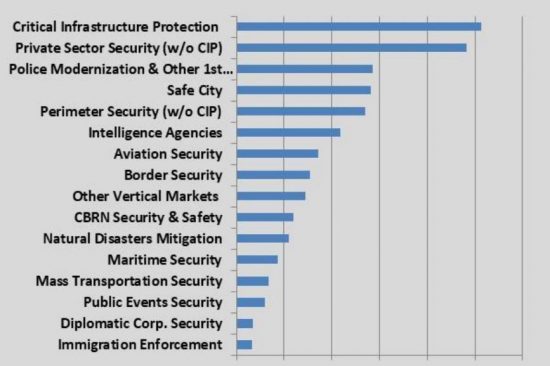 Global HLS & Public Safety 2024 Market Size [$B] by Vertical Market
See also the global version of this report
17 years have passed since 9/11, and the global Public Safety & Homeland Security market, technologies and industry are forecast to go through major shifts. New and maturing technologies, such as artificial intelligence, big data & data analysis, smart sensors, AI-based cybersecurity, 5G, TETRA & LTE emergency communication and AI based video analytics, will create new market segments and fresh business opportunities.
With 312 pages and 70 tables and 105 figures, the new "Global Homeland Security & Public Safety by Vertical Markets – 2019-2024″ report offers for each of its sub-markets 2016-2018 market data and analyses, as well as 2019-2024 forecasts and analyses.
Report Key Findings Include:
Aviation Security: This market which was dominated by the U.S. in the past, will be overtaken by China, Europe and the Gulf states during the 2019-2024 period. These regions will combine to a market share of more than 60% of the global revenues of the new aviation security systems and devices.
Border Security: illegal immigration, organized crime, smuggling of goods & narcotics, and terror are the main drivers of the land border and maritime security markets growth.
Critical Infrastructure: critical infrastructure protection will be 17% of the total market share by 2024; the largest vertical in terms of $ value
Public Events Security: is forecast to grow at a 2018-2024 CAGR of 11.4%
Why Buy this Report?
This is the only report that addresses the Homeland Security & Public Safety dual-use markets. 87% of the Homeland Security & Public Safety industry revenues emanate from vertical sectors. For example, Maritime security is used to address both crime, illegal immigration and terror.
Market data analyzed via several key perspectives.
With a highly fragmented Homeland Security & Public Safety market we address the "Money trail" – each dollar spent via several viewpoints by Vertical Markets including:
Aviation security,
CBRN & HAZMAT security,
Border security,
Counter-terror & crime intelligence,
Critical infrastructure security,
Law enforcement ,
1st responders,
Maritime security,
Land transportation security,
Energy & petro-chemical industry security,
Public events security,
Commercial & industrial security systems,
Safe cities,
Diplomatic facilities & personal security,
Natural disasters preparation & response and
Other vertical HLS & Public Safety markets.
Detailed market analysis frameworks for each of the vertical market sectors, including:
Market drivers & inhibitors
Business opportunities
SWOT analysis
Competitive analysis
Business environment
The 2019-2024 market segmented
Technology outlook